News > Nation/World
Flooded Brazilians in search of food
Sun., May 10, 2009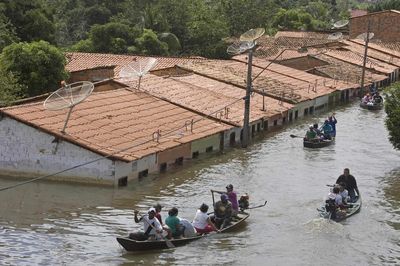 TRIZIDELA DO VALE, Brazil – Hungry and sick Brazilians in a region devastated by floods paddled canoes Saturday to buy food in neighboring towns and cast nets for river fish amid complaints that government aid was slow to arrive.
Across a vast swath of the country, flooding has killed 40 and forced nearly 300,000 Brazilians from their homes. In Trizidela do Vale, where two residents drowned and another was electrocuted, most houses were flooded up to their red-tile rooftops and there has been no potable water for a month.
Waters were receding slightly in the farm town of 20,000 people after months of heavy rain, but three of every four inhabitants saw their homes destroyed and fled, or were camped out in deplorable sanitary conditions.
Several government shipments of rice and beans have made it by boat to the town. But it wasn't enough to feed the hungry, who fished and pooled their dwindling cash for canoe trips to buy food from neighboring towns.
Doctors feared that disease could sweep through the town. Makeshift shelters included a rodeo fairground where thousands staying with their livestock bathed and washed their clothes in the dirty floodwaters surrounding the area.
Meteorologists blame the heavy rain on an Atlantic Ocean weather system that typically moves on by April – and they forecast weeks more of the same.
Local journalism is essential.
Give directly to The Spokesman-Review's Northwest Passages community forums series -- which helps to offset the costs of several reporter and editor positions at the newspaper -- by using the easy options below. Gifts processed in this system are not tax deductible, but are predominately used to help meet the local financial requirements needed to receive national matching-grant funds.
Subscribe to the Coronavirus newsletter
Get the day's latest Coronavirus news delivered to your inbox by subscribing to our newsletter.
---