Sports
Seahawks bullish on their backfield
Draft shows team has faith in veterans
Sun., May 10, 2009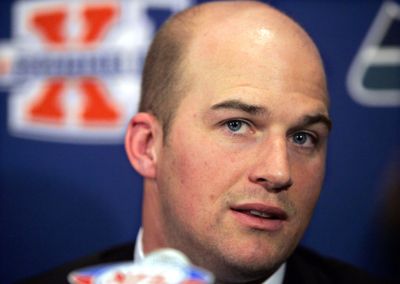 RENTON, Wash. – About a week before the NFL draft, Seahawks president Tim Ruskell was asked about the future of the team's quarterback, Matt Hasselbeck.
"I think he's still in his prime," Ruskell answered.
During that same conversation, he was asked about Julius Jones and the rest of Seattle's running backs. Ruskell didn't rule out that the team might add new faces to the backfield, but he said he liked what he had on the current roster.
The following weekend, the team's draft decisions backed up the faith he expressed in both Hasselbeck and the Seahawks running backs. Seattle didn't select a running back with any of their seven picks, and didn't take a quarterback until the sixth round.
Hasselbeck, assuming he was healthy, would have no doubt been the starter this year anyway, but not taking a quarterback such as Mark Sanchez shows Ruskell really does think his quarterback has plenty of good years left.
Following a veteran workout Thursday – rookies were sent home per league rules after last weekend's minicamp – Hasselbeck joked that, had his team taken a quarterback in the early rounds, "I'd be selling my house." All kidding aside, however, Hasselbeck said his approach is the same this week with or without a new quarterback waiting in the wings.
"Focusing on stuff like that is not going to help you at all. What you've got to focus on is the stuff that happens in between the white lines out there, so that's where 90 percent of my focus is," Hasselbeck said.
Hasselbeck said he learned not to worry about elements outside of his control when he first came to Seattle.
"I experienced kind of a high-low in 2001," he said. "I got traded and talked to the coaching staff and they said, 'Hey, we want you to come be our starting quarterback.' And then during training camp, they go and sign Trent Dilfer, who had just won a Super Bowl. I think I learned a lot through that experience and through other experiences like that."
Jones came to Seattle from Dallas looking for a chance to be a feature back. Last season, Jones averaged a career-best 4.4 yards per carry, but found himself splitting time with Maurice Morris. With Morris gone to Detroit, Jones feels like this could be his year.
"There's always competition. I go into every year with the same game plan, and that's to prove that I'm elite back in this league," he said. "It's good to know that they believe in me. Not only me, but the other guys we have here. That's a really good feeling and it will just motivate us to be the guys they expect us to be."
T.J. Duckett, the bruiser in Seattle's backfield, feels comfortable in his second year in Seattle. He played in Atlanta under several of the current Seahawks coaches, including Jim Mora and offensive coordinator Greg Knapp. Like Jones, Duckett also feels a bit more comfortable this year knowing his team has faith in his abilities.
"It does, it shows a lot of faith that they have in us," Duckett said. "And that in turn puts a lot of responsibility on us to give them what they expect."
Local journalism is essential.
Give directly to The Spokesman-Review's Northwest Passages community forums series -- which helps to offset the costs of several reporter and editor positions at the newspaper -- by using the easy options below. Gifts processed in this system are not tax deductible, but are predominately used to help meet the local financial requirements needed to receive national matching-grant funds.
Subscribe to the sports newsletter
Get the day's top sports headlines and breaking news delivered to your inbox by subscribing here.
---