News > Features
Living long, still prospering
Tue., May 12, 2009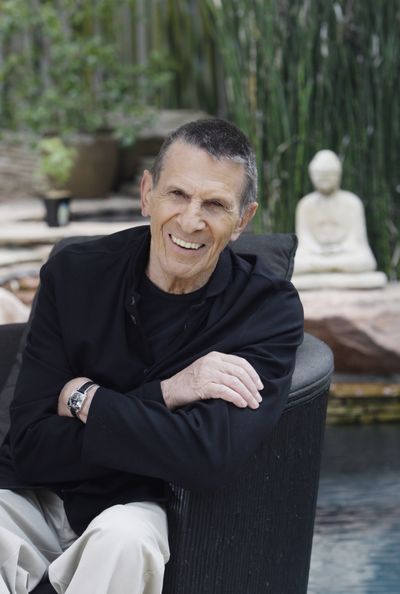 Outside of Leonard Nimoy's Bel Air home, workers are busy constructing a new driveway, replacing flagstone with sleek cement as part of a conversion from Mediterranean to modern.
Though the 78-year-old actor is also undergoing a metamorphosis of sorts, he isn't paving over his past.
After a 19-year absence, Nimoy again dons pointy ears as a mature Mr. Spock in J.J. Abrams' new "Star Trek" movie.
And tonight, he'll originate the role of genius gazillionaire William Bell in the first-season finale of Fox's supernatural series "Fringe."
"In both of these cases, I feel like I'm slipping into a very comfortable bathrobe or a very warm bath," Nimoy says with a chuckle.
"I had a great time on the 'Star Trek' movie. And I had a delicious time on this episode. I like the position they have given me. I like the enigma of this character."
Bell, the former lab partner of unhinged scientist Walter Bishop (played by John Noble), has often been mentioned – but never seen – on "Fringe."
Astute fans know that Bell became one of the wealthiest men in the world after parting ways with Bishop and founding Massive Dynamic, an ominous corporation that dabbles in robotics, pharmaceuticals and weaponry.
"I've never played America's richest man before," Nimoy cooed.
He has filmed one scene so far with actress Anna Trov, who plays Olivia Dunham, an FBI agent assigned to investigate unexplained phenomena with Bishop and his son.
When filming begins for the second season later this year, Nimoy will appear in additional episodes "when they call me."
Something about Bell is very different from any character Nimoy has ever played, but he wants to keep that under wraps.
What's not a mystery is why Nimoy was offered the part: He bonded with "Fringe" co-creator Abrams while filming "Trek."
Nimoy had never seen "Fringe" before but was impressed with the show after watching a few episodes.
"It's not (that it's) unlike any other show that's ever been done," he says. "It's just that the execution is so much more thoughtful and theatrical than what I've seen in the past."
Abrams earned the admiration of Nimoy after filming his upcoming take on "Trek," in which Nimoy shares the role of Spock with Zachary Quinto, the 31-year-old "Heroes" actor who portrays the young Vulcan.
Quinto said he was able to understand the iconic half-Vulcan, half-human Enterprise science officer because he melded with Nimoy off screen.
"The physicality and the essence of Spock is very specific, and it's as tied to his cultural identity and his social identity as it is to Leonard having created it," said Quinto, who now shares something else with Nimoy besides Spock: Like Bell, Quinto's evil character Sylar on NBC's "Heroes" was in the shadows on that show before Quinto was cast in the role.
Nimoy, surrounded by art in his house – including many of his own photographs – said the version of Spock he's portraying in the new film is more like who he is more than ever before because "I know where I'm going, and I know where I've been."
Other than the "Fringe" role and possibly another "Trek" film, Nimoy doesn't have other onscreen commitments.
And that's exactly the way he wants it.
"I like being here," he said. "This is a great place to spend time."
The birthday bunch
Composer Burt Bacharach is 81. Actress Linda Dano ("Another World") is 66. Singer Steve Winwood is 61. Actress Lindsay Crouse is 61. Actor Bruce Boxleitner is 59. Singer Billy Squier is 59. Actor Gabriel Byrne is 59. Country singer Kix Brooks (Brooks and Dunn) is 54. Actor Ving Rhames is 50. Actor Emilio Estevez is 47. Actor Stephen Baldwin is 43. Actress Kim Fields is 40. Actor Mackenzie Astin is 36. Actor Jason Biggs ("American Pie") is 31. Actor Malcolm David Kelley ("Lost") is 17. Actors Sullivan and Sawyer Sweeten ("Everybody Loves Raymond") are 14.
Local journalism is essential.
Give directly to The Spokesman-Review's Northwest Passages community forums series -- which helps to offset the costs of several reporter and editor positions at the newspaper -- by using the easy options below. Gifts processed in this system are not tax deductible, but are predominately used to help meet the local financial requirements needed to receive national matching-grant funds.
Subscribe to the Coronavirus newsletter
Get the day's latest Coronavirus news delivered to your inbox by subscribing to our newsletter.
---
Subscribe and log in to the Spokesman-Review to read and comment on this story