News > Spokane
Weather Service reports tornado
Last week's storm brought funnel clouds
Tue., May 12, 2009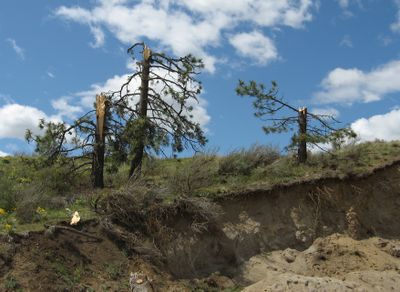 A "supercell" thunderstorm that spun up funnel clouds over Lincoln County and damaged property south of Deer Park last Wednesday also dropped a tornado north of Davenport, the National Weather Service said Monday.
Meteorologist Kerry Jones said the tornado appeared to skip along the terrain near Teel Hill Road for about four miles just south of the Spokane River and north of Davenport. Supercells, the most severe thunderstorms, have the potential to cause the most damage.
The tornado may have been caused by the same funnel cloud formation that was captured by a photographer in the Davenport area early Wednesday evening. Another funnel cloud was spotted near Odessa in western Lincoln County a short time earlier.
As it moved northeastward, the same storm also sent a "downburst" of cold wind across Wild Rose Prairie south of Deer Park, damaging buildings and vehicles, downing trees and scattering debris across a 6-mile swath, meteorologists said.
Downburst winds result when pockets of cooled air, formed by evaporated raindrops, accelerate toward the ground and spread out upon impact.
The Davenport-area tornado passed through undeveloped farmland and timber, breaking off a number of trees above the ground and throwing the trunks at angles perpendicular to the path of the storm, which went from southwest to northeast, ending in Harker Canyon.
There were no homes or buildings in the path, which was about 30 yards wide.
Jones estimated that the tornado was probably at the lowest end, or zero rating, on the Enhanced Fujita Scale, making it an EF0 tornado with winds of 65 to 85 mph. A deadly EF5 tornado has winds in excess of 200 mph.
Fewer than two reported tornadoes, on average, occur in Washington each year with an equal number not reported because they are in remote areas and not seen, Jones said.
There have been 11 other tornadoes since the start of 2000 in Eastern Washington, which gets most of Washington's tornadoes, and they typically come from the middle of May to the middle of June and are at the bottom of the rating scale.
In May 1997, four tornadoes were reported in the Inland Northwest, including one near Athol that rated a 2 under the rating scale that existed prior to 2007.
The downburst south of Deer Park drove what the weather service calls "straight-line wind" across the area's farm and timberland at a speed in excess of 80 mph, meteorologists said.
"Straight-line winds will often do more damage than a weak tornado," Jones said.
Video from the weather service radar showed a distinct bow-shaped pattern in the storm just before the Deer Park-area downburst, which is consistent with straight-line wind, a term that is used to distinguish that type of wind from the twisting motion in a tornado.
However, Jones said another type of brief wind known as a "gustnado" may have occurred at the residence of Randy and Lynn White, where substantial damage occurred to a shop and vehicles. The "gustnado" is a brief tornado-like burst of damaging winds, he said.
Local journalism is essential.
Give directly to The Spokesman-Review's Northwest Passages community forums series -- which helps to offset the costs of several reporter and editor positions at the newspaper -- by using the easy options below. Gifts processed in this system are not tax deductible, but are predominately used to help meet the local financial requirements needed to receive national matching-grant funds.
Subscribe to the Coronavirus newsletter
Get the day's latest Coronavirus news delivered to your inbox by subscribing to our newsletter.
---
Subscribe and log in to the Spokesman-Review to read and comment on this story