News > Nation/World
GOP hopeful about Crist's bid for Senate
Wed., May 13, 2009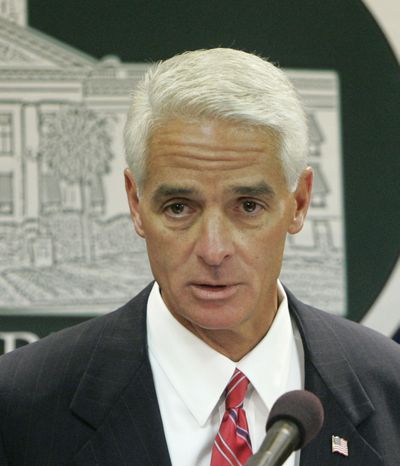 WASHINGTON – Florida Gov. Charlie Crist's announcement Tuesday that he will run for the Senate is being cast by Republicans as a sign that their political fortunes are turning with the emergence of a new crop of moderate voices lining up for 2010 races.
"It's a big tent with plenty of room for the Charlie Crists of this world," said Ari Fleischer, a former White House press secretary, of the current state of the GOP.
Crist, who was elected governor in 2006 after serving a stint as Florida's attorney general, is the most high-profile of a series of middle-of-the-road Republicans being recruited by National Republican Senatorial Committee Chairman John Cornyn, a list that includes Rep. Mark Kirk in Illinois and Rep. Mike Castle in Delaware. Cornyn's recruiting efforts suffered a blow last week when former Pennsylvania Gov. Tom Ridge, a prominent Republican moderate, passed on the Keystone State Senate race and, as Democrats are quick to say, not every Republican recruit is a moderate – noting the conservative bona fides of a pair of top Senate contenders, former Rep. Rob Portman in Ohio and Rep. Roy Blunt in Missouri.
Still, the decision by Cornyn to not only recruit Crist for the race but also endorse him moments after his candidacy became official Tuesday – despite the fact that former state House Speaker Marco Rubio, a favorite of conservatives, is also running – is a sign that Republican leaders charged with recruiting candidates in 2010 have made clear where they come down in the ongoing dispute between the GOP's moderate wing and its conservative faction.
Crist was on the list of potential running mates for Sen. John McCain, R-Ariz., last year, but was also one of the most outspoken Republican governors in arguing for President Barack Obama's stimulus package.
Local journalism is essential.
Give directly to The Spokesman-Review's Northwest Passages community forums series -- which helps to offset the costs of several reporter and editor positions at the newspaper -- by using the easy options below. Gifts processed in this system are not tax deductible, but are predominately used to help meet the local financial requirements needed to receive national matching-grant funds.
Subscribe to the Coronavirus newsletter
Get the day's latest Coronavirus news delivered to your inbox by subscribing to our newsletter.
---