Sports
Jenks fined for pitch
Wed., May 13, 2009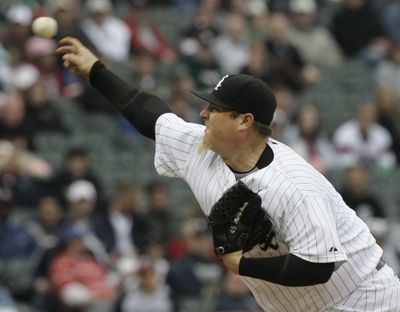 Chicago White Sox closer Bobby Jenks was fined Tuesday for throwing a pitch behind Texas' Ian Kinsler last weekend.
Major League Baseball imposed the penalty and did not disclose the amount, but the Chicago Tribune reported it was $750.
"What's done is done," Jenks said. "Hopefully after today, we can get by this and go play some baseball."
Jenks, who previously lived in Spirit Lake, sailed a fastball in back of Kinsler on Saturday. Jenks later said the pitch was intentional because he was tired of watching White Sox batters getting hit with no retaliation.
White Sox manager Ozzie Guillen was relieved his closer avoided a suspension.
"I was pleased. The way baseball is going right now, they're severe about fines and suspending people," Guillen said. "I think they did what they're supposed to do."
Robinson OK
Hall of Fame third baseman Brooks Robinson said he has been successfully treated for prostate cancer.
The Orioles great revealed that he had the illness during a luncheon for the American Cancer Society in Baltimore.
The 71-year-old Robinson said the disease was detected "very early" and he had 39 radiation treatments.
"I feel healthy and fine … " he said.
Clearing the bases
B.J. Ryan is nearing a return to the Toronto Blue Jays, but not as the team's closer. General manager J.P. Ricciardi said the Blue Jays will continue to use Scott Downs in the ninth inning even after Ryan rejoins the club. … The Boston Red Sox placed first baseman Kevin Youkilis on the 15-day disabled list, retroactive to May 5, because of a strained oblique muscle on his left side. Youkilis is batting .393 with six home runs, 20 RBIs and a major league-best .505 on-base percentage. … Carlos Delgado's aching right hip is expected to sideline him for at least a few days, and the New York Mets plan to decide by Friday whether to put him on the disabled list. … Florida Marlins reliever Scott Proctor is expected to be out for a year after having reconstructive surgery on his right elbow. … The Arizona Diamondbacks placed slumping outfielder Conor Jackson on the 15-day DL with a "general illness." Jackson has had a prolonged fever and cough. … Washington center fielder Lastings Milledge will be out six to eight weeks following surgery on his broken right ring finger.
Local journalism is essential.
Give directly to The Spokesman-Review's Northwest Passages community forums series -- which helps to offset the costs of several reporter and editor positions at the newspaper -- by using the easy options below. Gifts processed in this system are not tax deductible, but are predominately used to help meet the local financial requirements needed to receive national matching-grant funds.
Subscribe to the sports newsletter
Get the day's top sports headlines and breaking news delivered to your inbox by subscribing here.
---