News > Features
Just a hunk of rhymin' love
Wed., May 13, 2009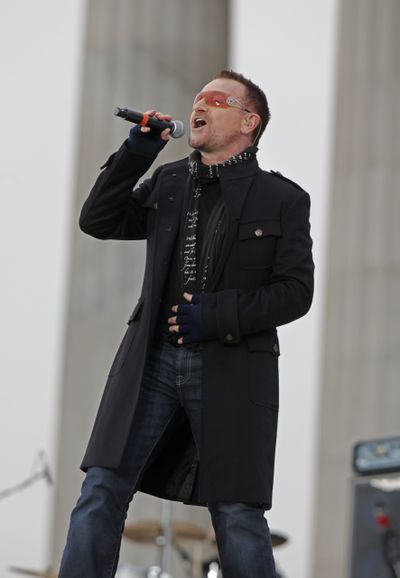 The poetry doesn't rise to a Shakespearean level, but the sentiments in Bono's tribute to Elvis Presley seem heartfelt.
The U2 frontman is reading an original poem honoring America's original rocker as part of the BBC's poetry season.
"Elvis woke up my heart," Bono says near the end of the work, which celebrates Presley's small-town roots and global influence.
It will be broadcast today on BBC Radio 4 after more than a decade of sitting on a shelf.
"Elvis was made by America so America could remake itself," Bono reads. His words are mixed with comments by Presley and others, and sections of some of Presley's classic songs, including the haunting "Mystery Train."
It is clear from Bono's poem that Presley's influence extended to Ireland, where Bono first heard him as a young boy, and to Liverpool.
"Elvis invented the Beatles," Bono says.
The poem was recorded near the end of an interview with Bono more than 10 years ago. Although it was reprinted some years ago in a fan magazine, it has never been performed or broadcast, in part because producers could not figure out how to showcase it.
Someone lost their head
Kiefer Sutherland did not instigate an incident in which he's accused of head-butting a fashion designer and breaking the man's nose, his lawyer says.
The "24" star has been charged with third-degree assault in the incident last week at a trendy Manhattan nightclub.
Police plan to question actress Brooke Shields, who also was involved.
"She was bumped into by (designer) Jack McCollough and Kiefer Sutherland became concerned," her lawyer said, adding: "Both Jack and Kiefer are friends of Ms. Shields and she regrets this unfortunate situation."
Another web, er, rug-crawler
"Spider-Man" star Tobey Maguire's wife has given birth to the couple's second child, a boy.
Jennifer Meyer, the daughter of Ron Meyer, president and CEO of Universal Studios, gave birth to the couple's daughter, Ruby Sweetheart Maguire, more than two years ago.
And a baby Seal-ette
By the way, in case you hadn't heard, singer Seal and supermodel Heidi Klum have revealed that they're expecting their first girl.
Klum has two young sons with Seal, who announced her latest pregnancy to his audience at a recent New York City concert.
Elvis would have understood
Former Jenny Craig spokeswoman Kirstie Alley, who claimed the company's products helped her shed 75 pounds, admits she gained it all back – though she plans to lose it again.
"I fell off the horse," says the 5-foot-8 "Cheers" alum, who abandoned her diet after leaving the company in 2007.
When she stepped on a scale 15 months ago, she says, "I started screaming. It said 228 pounds, which is my highest weight ever. I was so much more disgusting than I thought!"
The birthday bunch
Actor Harvey Keitel is 70. Singer Stevie Wonder is 59. Comedian Stephen Colbert ("The Colbert Report") is 45. Actor Tom Verica ("American Dreams") is 45. Country singer Lari White is 44. Singer Darius Rucker (Hootie and the Blowfish) is 43.
Local journalism is essential.
Give directly to The Spokesman-Review's Northwest Passages community forums series -- which helps to offset the costs of several reporter and editor positions at the newspaper -- by using the easy options below. Gifts processed in this system are not tax deductible, but are predominately used to help meet the local financial requirements needed to receive national matching-grant funds.
Subscribe to the Coronavirus newsletter
Get the day's latest Coronavirus news delivered to your inbox by subscribing to our newsletter.
---