News > Nation/World
Slain lawyer had accused president
Guatemala in uproar after release of videotape
Wed., May 13, 2009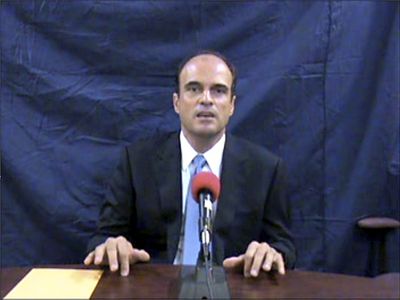 GUATEMALA CITY – A slain lawyer's videotaped and posthumously broadcast accusation that President Alvaro Colom ordered his murder threw Guatemala into an uproar Tuesday and prompted the government to call for a U.N. agency and the FBI to investigate the killing.
Colom vehemently denied the allegations made in a videotape left by lawyer Rodrigo Rosenberg, who was shot to death by unidentified assailants while riding his bicycle Sunday. But opposition lawmakers called for the president to step aside while the killing is investigated.
"If you are watching this message, it is because I was assassinated by President Alvaro Colom with help from Gustavo Alejos," the president's secretary, Rosenberg said in the video distributed at his funeral Monday.
The Guatemala City newspaper Prensa Libre said the recording "has created the greatest political crisis for this democracy, because never before has a democratically elected president been accused of murder."
Television stations repeatedly aired the video and so many people watched it on Guatemalan Internet sites that some temporarily collapsed.
On the video, Rosenberg says officials might want to kill him because he represented businessman Khalil Musa, who was slain in March along with his daughter. The lawyer says Musa, who had been named to the board of Guatemala's Rural Development Bank, was killed for refusing to get involved in purported illicit transactions at the bank.
The Guatemalan government is the majority shareholder in the bank.
Rosenberg said the alleged illicit transactions "range from money laundering to the embezzlement of public funds and nonexistent programs operated by first lady Sandra de Colom, as well as the financing of front companies used by drug traffickers."
Luis Mendizabal, a friend of Rosenberg, said he distributed 150 copies of the video made by the lawyer before he was gunned down.
Colom, a center-left politician who took office in January, went on national television to dismiss the accusations and demand an outside investigation.
"First of all, I am not a murderer. Second, I am not a drug trafficker, and everything he says there is totally senseless," Colom said of Rosenberg's video.
He said his government asked the International Commission against Impunity in Guatemala to investigate "to clear up this matter." The U.N. panel was created in 2007 to clean up corruption in Guatemala.
Colom said he also talked to U.S. Ambassador Stephen McFarland to ask the FBI to probe Rosenberg's slaying.
Local journalism is essential.
Give directly to The Spokesman-Review's Northwest Passages community forums series -- which helps to offset the costs of several reporter and editor positions at the newspaper -- by using the easy options below. Gifts processed in this system are not tax deductible, but are predominately used to help meet the local financial requirements needed to receive national matching-grant funds.
Subscribe to the Coronavirus newsletter
Get the day's latest Coronavirus news delivered to your inbox by subscribing to our newsletter.
---