News > Features
To CNN's Gupta, teaching via television still feels right
Wed., May 13, 2009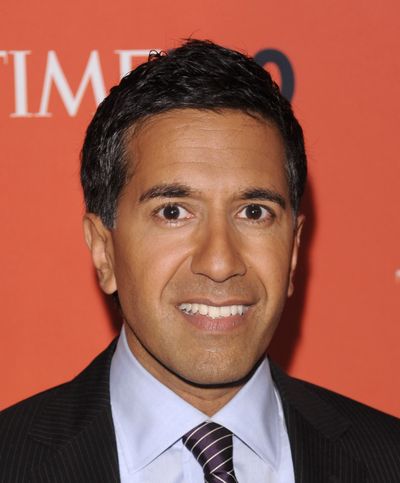 "Don't drop me," CNN's Dr. Sanjay Gupta said as he hopped on the back of a motorcycle for a ride down a dusty Mexican street.
He was looking for the boy believed to be the first person diagnosed with swine flu, armed with a picture on his BlackBerry.
Gupta would not have been in La Gloria, Mexico, if he had accepted the Obama administration's overture to be U.S. surgeon general. You get the feeling he would have missed it.
His aggressive spirit covering the outbreak stood out during the brief period that the story went into overdrive, including his successful search for 5-year-old Edgar Hernandez near a pig farm in La Gloria and the somewhat goofy "undercover" report from a Mexican hospital where swine flu patients were kept behind closed doors.
The Mexico trip increased Gupta's celebrity. The only TV network medical correspondent named one of People magazine's "sexiest men alive" doubled his Twitter following to 20,000 people while he was there.
He said he learned a valuable lesson early in his CNN career from Dr. Tim Johnson, veteran ABC News medical correspondent, who told him to talk to the camera as if it were a patient.
Gupta, 39, who was a White House fellow in the Clinton administration, started at CNN in 2001 believing his main role would be to report on health policy.
He didn't know if he'd ever be on camera, but that changed the day a study was released showing a link between the Vietnam War-era chemical Agent Orange and blood disease. Gupta was asked to go on the air and talk about it.
"The culture (of journalism) is totally different," he said. "For one thing, I didn't have any clothes. I'd worn scrubs my whole life. I came to CNN with one suit and two ties."
ABC's Johnson said it seems Gupta has taken his advice.
"I feel like a doctor who happens to be on TV, even though that's what I do now full time," Johnson said. "I think he has that quality, too. To me, it helps communicate with the audience because you're not preaching at them, you're teaching at them."
Once he became comfortable with the camera, Gupta carved out a different role. While Johnson is a commentator, Gupta frequently goes to the scene of stories reporting on health issues.
He's been to Iraq (where he performed emergency brain surgery on a soldier), and to areas damaged by the tsunami and Hurricane Katrina.
That has caused some controversy, as when he battled filmmaker Michael Moore after questioning claims in "Sicko."
His enthusiasm in finding Hernandez, however, made for a memorable story. Gupta used his medical credentials to ask pertinent questions and get into the hospital to illustrate how patients were quarantined.
He was called by Obama's transition team last fall about the surgeon general's job, and took nearly two months to weighing the possibilities. For one thing, becoming surgeon general would have effectively ended his career as a surgeon.
Gupta performs surgery at least once a week at Grady Memorial Hospital in Atlanta, and would be only 43 if he completed a term as surgeon general. He didn't want to stop practicing that young.
Also, his wife was pregnant at the time and he thought he'd regret being a commuter dad with three young children.
"It was a hard decision, and until I actually said it publicly, I still wasn't 100 percent sure," Gupta said. "When I said it publicly, I felt good about it, and sometimes that's the way you know."
Local journalism is essential.
Give directly to The Spokesman-Review's Northwest Passages community forums series -- which helps to offset the costs of several reporter and editor positions at the newspaper -- by using the easy options below. Gifts processed in this system are not tax deductible, but are predominately used to help meet the local financial requirements needed to receive national matching-grant funds.
Subscribe to the Coronavirus newsletter
Get the day's latest Coronavirus news delivered to your inbox by subscribing to our newsletter.
---