News > Nation/World
Atlantis attaches to Hubble, preps for five days of repairs
Thu., May 14, 2009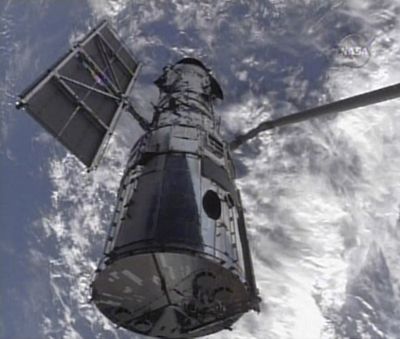 CAPE CANAVERAL, Fla. – Atlantis' astronauts grabbed the Hubble Space Telescope on Wednesday, then quickly set their sights on the difficult, dangerous and unprecedented spacewalking repairs they will attempt over the next five days.
Hubble and Atlantis are flying in a 350-mile-high orbit littered with space junk. Some of that debris put a bit of a scare into NASA late Wednesday, when a 4-inch piece was spotted on a path coming close to the shuttle.
The debris did not hit the spacecraft and NASA had decided it didn't need to move Atlantis out of the way.
Left over from the 2007 Chinese destruction of a satellite during a weapon test, the debris was predicted to come within 1.7 miles of Atlantis. Mission Control let it pass by without noting it.
Flight controllers gasped when the telescope that had been in orbital solitude for seven years first came into view.
"It's an unbelievably beautiful sight," reported John Grunsfeld, the telescope's chief repairman. "Amazingly, the exterior of Hubble, an old man of 19 years in space, still looks in fantastic shape."
NASA hopes to get another five to 10 years of dazzling views of the cosmos with all the planned upgrades, which should leave the observatory more powerful than ever.
Shuttle robot arm operator Megan McArthur used the 50-foot boom to seize the school bus-sized telescope as the two spacecraft sailed above Australia. Then she lowered the observatory into Atlantis' payload bay, where cameras checked it out.
Local journalism is essential.
Give directly to The Spokesman-Review's Northwest Passages community forums series -- which helps to offset the costs of several reporter and editor positions at the newspaper -- by using the easy options below. Gifts processed in this system are not tax deductible, but are predominately used to help meet the local financial requirements needed to receive national matching-grant funds.
Subscribe to the Coronavirus newsletter
Get the day's latest Coronavirus news delivered to your inbox by subscribing to our newsletter.
---