News > Idaho
Activist led fights over timber, water
Thu., May 14, 2009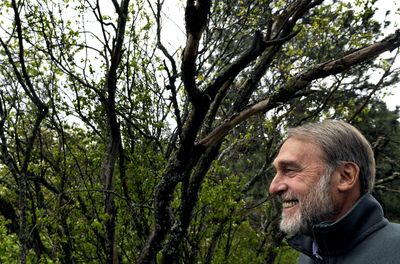 A clear-cut changed the course of Barry Rosenberg's life.
Rosenberg was living a "back to the land" dream on a 40-acre homestead near Priest Lake when the U.S. Forest Service proposed clear-cutting the hillside above his property. Rosenberg, a former logger, feared the timber sale would silt up the creek that supplied his drinking water. He hired an attorney to appeal it.
"Oh, I could do that," Rosenberg later thought as he read the attorney's written appeal. For nearly 30 years, he did.
Rosenberg, 66, retires Friday as one of the Inland Northwest's most prolific environmental activists. Through the 1980s and 1990s, he rallied residents to appeal what he believed was rampant overcutting of federal forests east of the Cascade range.
A towering man with a jutting nose and a fondness for fiery rhetoric, Rosenberg earned a reputation as both principled and unbending.
"Stumps don't lie," reads a bumper sticker in his office. "If you aren't completely appalled, you haven't been paying attention," says another.
For the past seven years, Rosenberg worked as Kootenai Environmental Alliance's executive director. In that role, he fought plans for a Rathdrum Prairie power plant that would have sucked 7 million gallons of water daily from the aquifer. He also worked with local governments on water conservation and land-use planning.
"We'll miss him on the front lines," said Mike Petersen, executive director of the Lands Council in Spokane.
The two men once traveled the Northwest together as part of the Lands Council's Forest Watch program, teaching grass-roots groups how to successfully appeal timber sales.
"We would go and crash on the floor in somebody's house – whether it was Wenatchee or the Idaho Panhandle or Montana," Petersen said. "His dream was to start all these Forest Watch groups around the Northwest. He got a lot of us trained."
"We're losing a real icon," said Janet Torline, Kootenai Environmental Alliance's board president.
The nonprofit grew to 600 members under Rosenberg's leadership while keeping its grass-roots character, she said. Terry Harris, an attorney who joined the alliance last year, is the new executive director.
"It's a privilege to find a job that fits your passion," said Rosenberg, who earned $36,000 a year. He's retiring to spend more time with his wife, Catherine, who lives at the couple's Priest Lake cabin. While he was working for environmental nonprofits, Rosenberg rented an apartment and drove home on weekends.
During the winter, the cabin gets snowed in. It's heated with wood and has no television, washer, dryer or refrigerator.
"We like the quiet," said Catherine Rosenberg. She's a weaver who's interested in environmental issues, but she isn't an activist.
"I gave my husband to the cause," she said. "That was enough."
Rosenberg grew up in suburban New Jersey and graduated from Philadelphia's Temple University with an English degree. Both he and his wife felt the pull of the beatniks' counterculture message. They spent the 1960s in San Francisco, where Rosenberg worked as a construction laborer. Later, they bought a small acreage in Humboldt County.
"It was the beginning of our 'back to the land' experience," Rosenberg said. "We had fruit trees and chickens. We ate fish from the ocean."
But Humboldt County wasn't remote enough. An advertisement in "Mother Earth News" for land in North Idaho caught the couple's eye. Eventually, they bought 40 acres in Squaw Valley near Priest Lake.
"I like living on the edge," Rosenberg said. "My nature is to jump into things with two feet, and then figure things out."
The family – which included Rosenberg's 15-year-old stepson, a dog, a cat and her two young kittens – moved to the Priest Lake area in June 1975. The snow had just melted. Animals and humans shared a tent on the property while the Rosenbergs built a 12-by-16-foot cabin.
When the snow fell that winter, their son skied 2 ½ miles to catch the school bus. Rosenberg found work in the woods.
He tried logging but didn't like cutting down old-growth cedars or hemlocks. He later ran a tree-planting business, contracting with the Forest Service to restock clear-cuts.
When the Forest Service proposed the timber sale adjacent to his property, Rosenberg said, he knew enough to be concerned. He appealed several versions of the sale. Eventually, it went through. Rosenberg missed the final appeal deadline. He'd been on the East Coast for his mother's funeral.
After the sale, the water from his faucet sometimes turned muddy. The neighbor's unfenced cattle used the new logging roads to venture deep into the national forest, tearing up the ground.
"I will never again back away from a bad timber sale," Rosenberg pledged to himself.
Rosenberg's leadership came at a critical time in the Northwest's timber battles, said Dr. John Osborn, a Spokane physician who hired Rosenberg to run the Forest Watch program. During the 1980s and '90s, national forests faced tremendous political pressure to cut more trees. When spotted owl lawsuits shut down timber sales west of the Cascades, harvest pressures intensified on East Side forests.
"What turned the corner was the citizens Forest Watch program," Osborn said. "All over the Inland Northwest, they stopped the massive overcutting that was going on. That really came from Barry's figuring out how to protect his drinking water. His work became a model for citizen oversight of the forest."
Within three years, the appeals had sharply reduced timber sales on Eastside forests, Rosenberg said.
While the appeals antagonized the timber industry, Rosenberg said he kept his rapport with individual loggers.
"I'd lived in the woods and worked in the woods. That helped me with my neighbors," he said. "They never really liked what I was doing, but I'd lived the rural life. I wasn't a city slicker coming in."
"We couldn't be any more ideologically opposed, but he's a very nice person," said Serena Carlson, spokeswoman for the Intermountain Forestry Association, a timber industry group in Coeur d'Alene. "He's just wrong about forest management."
In the new era, Carlson said environmentalists need to work with the timber industry, sportsmen's groups and ATV riders.
"That's how things get done," she said. "Everyone gives up something, and everyone gets something. When it works out well, nobody sues."
Rosenberg remains distrustful of the Forest Service. The agency depends on logging revenue, and that perpetuates timber harvests, he said.
"They always wrap it in virtue," Rosenberg said. "They say, 'We're logging to pay for watershed restoration.' "
Timber harvests on the Idaho Panhandle National Forests have fallen to 25 percent of their historic high, said Dave O'Brien, the forests' operations team leader. The change stems from agency reforms, as well as environmental appeals, he said.
"I really do wish Barry the best," O'Brien said. "We know that we're going to continue to communicate with Barry, because he lives in the forest."
Local journalism is essential.
Give directly to The Spokesman-Review's Northwest Passages community forums series -- which helps to offset the costs of several reporter and editor positions at the newspaper -- by using the easy options below. Gifts processed in this system are not tax deductible, but are predominately used to help meet the local financial requirements needed to receive national matching-grant funds.
Subscribe to the Coronavirus newsletter
Get the day's latest Coronavirus news delivered to your inbox by subscribing to our newsletter.
---