News > Washington Voices
In earning Eagle, teen follows family path
Thu., May 14, 2009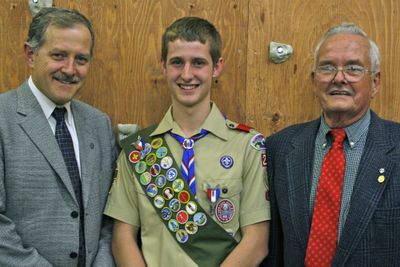 Evan Murray carried out a family tradition Friday night by representing the third generation to earn the rank of Eagle Scout.
The Court of Honor ceremony celebrating the 18-year-old Ferris senior's accomplishment was held at Christ the Redeemer Church, 1523 W. Mallon Ave.
During the ceremony, Murray gave his 79-year-old grandfather, Bob Murray, a mentor pin.
"You've been one of my biggest fans and the most determined to get me to do this," Evan said to his grandfather prior to presenting him with the pin. "For that I want to give you this mentor pin."
Receiving the pin was "completely unexpected," Bob Murray said. "It was wonderful, made everything worthwhile."
After Evan Murray's presentation, his grandfather returned the gesture by presenting Evan with his original Eagle pin.
The crowd of more than 50 family members, friends and fellow Scouts responded with applause.
"What you saw is as about as special as it gets," said Evan Murray's first Scout master, Hal Patton. "That is what scouting exemplifies."
According the Boy Scouts of America Web site, 5 percent of all boys who join the Scouts achieve the rank of Eagle. Of those 5 percent, an even smaller percentage comes from a family lineage of Scouts.
"This doesn't happen every day," said Ashley Sinner, district executive of the Inland Northwest Council of the Boy Scouts of America. "It's a big accomplishment and something they can take pride in."
"I'm very proud of him for sticking it out," said Evan Murray's mother, Karen. "It's something he will benefit from all his life."
Each rank preceding the Eagle has criteria that must be met before the Scout moves on to the next rank. The process can take years. "There were a lot of times I felt like quitting," Evan Murray said. "All my friends quit."
Evan Murray's cumulative Eagle project was to create a bouldering climbing wall, measuring 8 feet by 32 feet. It was designed and built for the youth center at his church, Christ the Redeemer. A bouldering climbing wall doesn't require harnesses or ropes – climbers move horizontally rather than vertically.
It took more than 140 hours to complete.
Encouragement and prodding from his father, Dr. Stephen Murray, and grandfather kept Evan focused on upholding the family tradition.
"I sent Evan an e-mail in June saying you have 166 days, 13 hours to your 18th birthday," the date by which Eagle requirements must be met, Bob Murray said. "I started out to be encouraging, and then starting needling."
"They were the driving force behind me," Evan said. "I'm really glad I stuck with it."
Bob Murray earned his Eagle in 1946 at age 16 in Buffalo, N.Y. Throughout his scouting career, he earned 24 merit badges, three of which he earned after receiving his Eagle.
Stephen Murray was 15 when he earned his Eagle in 1972, the same year the National Eagle Scout Association was organized. He remembers camping trips in Yosemite Park, which were "just a magical experience. I just fell in love with that kind of stuff. Scouts gave me an opportunity to do something I wouldn't otherwise have a chance to do."
Evan Murray began as a Cub Scout around age 10. His dad accompanied him on campouts.
The Court of Honor ceremony is the first major scouting event Evan, Stephen and Bob Murray attended together.
"I think having the three of us standing on the podium is something he'll be able to remember and look back on fondly for the rest of his life," Stephen Murray said.
When asked whether there'll be a fourth generation, Evan said: "Hopefully. I will definitely put my kids through Scouts."
Local journalism is essential.
Give directly to The Spokesman-Review's Northwest Passages community forums series -- which helps to offset the costs of several reporter and editor positions at the newspaper -- by using the easy options below. Gifts processed in this system are not tax deductible, but are predominately used to help meet the local financial requirements needed to receive national matching-grant funds.
Subscribe to the Coronavirus newsletter
Get the day's latest Coronavirus news delivered to your inbox by subscribing to our newsletter.
---