News > Business
Intel fined for sales tactics
EU assesses record $1.45 billion penalty against U.S. chip maker
Thu., May 14, 2009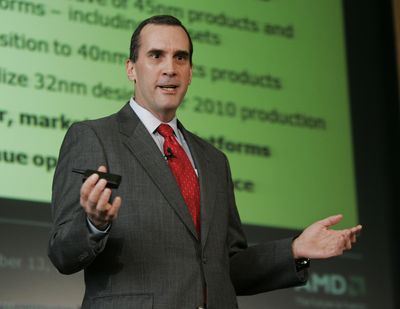 SAN FRANCISCO – Intel Corp. was fined a record $1.45 billion by the European Union on Wednesday for using strong-arm sales tactics in the computer chip market – a penalty that could turn up the pressure on U.S. regulators to go after the company, too.
The fine against the world's biggest chip maker represents a huge victory for Intel's Silicon Valley rival, Advanced Micro Devices Inc., or AMD, the No. 2 supplier of microprocessors to PC makers.
AMD has sued Intel and lobbied regulators around the world for the past five years, complaining that Intel was penalizing PC makers in the U.S. and abroad for doing business with AMD.
Although the U.S. Federal Trade Commission is also investigating, AMD seems to have found its most sympathetic ear in Europe.
EU Competition Commissioner Neelie Kroes said Intel has harmed millions of European consumers by "deliberately acting to keep competitors out of the market."
The commission told Intel to immediately stop some sales practices in Europe, though it wouldn't say what those were. Intel said it was "mystified" about what it was supposed to change but would comply while it appeals the fine.
The Santa Clara, Calif., company defended its sales practices – which include rebates to big Intel customers – as legitimate.
"This is really just a matter of competition at work, which is something I think we all want to see, versus something nefarious," Intel CEO Paul Otellini said in a conference call with reporters.
The biggest previous fine levied by the European Union for anticompetitive behavior was $1.3 billion, brought against Microsoft Corp. last year.
Whether Intel could face punishment in the U.S. remains to be seen. But the EU's fine against Intel could push the issue to the forefront for the Obama administration.
"If there was ever a time not to appear to be a large firm behaving badly, this would be it, as the financial collapse has the U.S. and EU competing for which government is the most proactively protecting consumer rights," warned Rob Enderle, a technology industry analyst.
"This judgment makes Intel the ball in what is likely an international game of one-upmanship."
The Federal Trade Commission investigation of Intel could result in the agency asking a court to order Intel to alter its practices. A spokeswoman for the FTC declined to comment.
Local journalism is essential.
Give directly to The Spokesman-Review's Northwest Passages community forums series -- which helps to offset the costs of several reporter and editor positions at the newspaper -- by using the easy options below. Gifts processed in this system are not tax deductible, but are predominately used to help meet the local financial requirements needed to receive national matching-grant funds.
Subscribe to the Coronavirus newsletter
Get the day's latest Coronavirus news delivered to your inbox by subscribing to our newsletter.
---