News > Washington Voices
Irises spring from winter of sorrow
Thu., May 14, 2009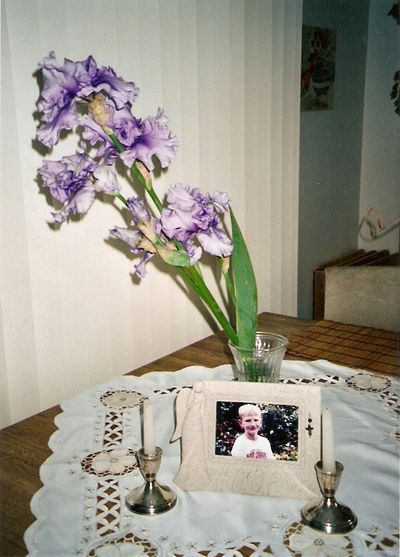 Spring has been long in coming this year. Another forecast of snow on its way. My bones shiver in the cold, overcast, dreary days that seem to go on and on. A short break with the sun coming through, and then the cold comes once again. I grudgingly put on my long-sleeved sweater and find myself longing for warmer days to wear light summer clothing, still packed away.
Itching to get my hands in the flower boxes, I stand forlorn on my porch, wondering when the sun will come to stay and the days will be warm enough to begin planting flowers.
This year I particularly wait for the iris to grow. Although the time is short when they are in bloom, they are especially beautiful, delicate flowers that bring much delight to the eye. The diverse colors are lovely to behold.
I, however, look for one color of iris that deeply touches my heart. It is blue with purple hues, and named Jordan's Joy after a precious 7-year-old boy, Jordan Mason, who was killed in a boating accident in 2006. Tom McRae, an elderly gentleman in the church this child and his family attended, loved irises. He and his wife grew them as a hobby in their large backyard.
When Tom heard of Jordan's death, he wanted to do something that would help Jordan's memory live on. He wrote to an iris grower in Oregon, Schriner's Iris Gardens, and told the story of Jordan and his death. The owner said it was not their usual practice to name an iris after a person, but he was so touched by the story of this little boy, he agreed to name a new specimen of iris after him. Jordan's Joy is sold throughout the nation. Many people plant and enjoy this lovely flower never knowing the full story behind the name.
I know the story, however, because Jordan was my grandson. He was an amazing little blond boy with much enthusiasm and love for life. He was seventh in the state in his wrestling age and weight group.
He was a natural-born leader and won an award as "citizen of the month" at his school. He was an excellent student and a friend to everyone he met – in every way, an outstanding little boy.
Riding in an inner tube behind a boat at Riverview Bible Camp on the Pend Oreille River, a ski boat hit him and he was killed instantly. The young teenage girl riding with him, who survived the accident, tells with awe of seeing a flash of bright light as they fell under water when the boat hit their inner tube. She then tells of seeing Jordan in the arms of an angel.
Like the iris that has a short few weeks in bloom, my grandson had a short few years on this Earth. Three years ago he went to heaven, leaving a grieving family plunged into a cold winter of sorrow. It was as if the season of sorrow would never end, but there has come the hope of spring. Life has gone on for those he left behind, even though he is daily in our thoughts. We remember the joy Jordan brought to all of us.
Now, spring is here once again. Jordan's parents gave birth to two more boys, giving them four sons which keep them busy. In between soccer and baseball games, gardens are being planted and flowers put in the ground. As I watch my grandsons playing in their yard, I look at the iris. Soon I will see their blossoms and gaze upon the blue ones with a purple hue – the ones called Jordan's Joy.
Local journalism is essential.
Give directly to The Spokesman-Review's Northwest Passages community forums series -- which helps to offset the costs of several reporter and editor positions at the newspaper -- by using the easy options below. Gifts processed in this system are not tax deductible, but are predominately used to help meet the local financial requirements needed to receive national matching-grant funds.
Subscribe to the Coronavirus newsletter
Get the day's latest Coronavirus news delivered to your inbox by subscribing to our newsletter.
---