News > Nation/World
Migrant boat sinks, killing 10
Thu., May 14, 2009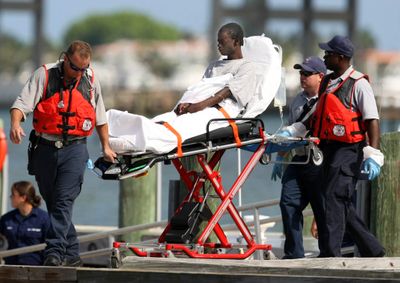 A boat overloaded with around 30 people, possibly Haitians being smuggled to the U.S. from their desperately poor country, sank off the Florida coast early Wednesday, dropping the occupants into the sea. The Coast Guard rescued 17 and was searching for others but said at least 10 died, including one child.
The search was expected to last overnight, and although the Coast Guard hadn't figured out exactly how many people were aboard or how many might still be lost at sea, it appeared certain that it fit the profile of migrant smuggling.
"The boat was obviously overloaded," Coast Guard Capt. James Fitton said. "It's a tragedy that someone would be so callous with human life."
Fitton said the boat apparently left Bimini in the Bahamas on Tuesday night and was believed to have capsized or collided with something at about 2 a.m. Officials didn't learn about it until another boater called more than 10 hours later.
The boat has not been found, and is thought to have sunk because it hasn't been spotted from the air. Fitton said all those rescued were expected to recover.
Washington
Pentagon official accused of spying
Federal authorities charged a Pentagon official Wednesday with conspiracy to communicate classified information to a Chinese agent, including details of sensitive U.S.-Chinese military partnerships.
In a complaint unsealed in suburban Washington, prosecutors alleged that James W. Fondren Jr. passed Defense and State department information to the agent from 2004 to 2008.
Fondren, deputy director of the Washington Liaison Office of the Defense Department's U.S. Pacific Command, has been on administrative leave with pay since February 2008.
Fondren's prosecution is part of a long-term counterespionage investigation that has so far yielded three convictions.
U.S. intelligence and law-enforcement officials say agents for the Chinese government and military have been engaged in a long-running effort to obtain U.S. military and trade secrets.
From wire reports
Local journalism is essential.
Give directly to The Spokesman-Review's Northwest Passages community forums series -- which helps to offset the costs of several reporter and editor positions at the newspaper -- by using the easy options below. Gifts processed in this system are not tax deductible, but are predominately used to help meet the local financial requirements needed to receive national matching-grant funds.
Subscribe to the Coronavirus newsletter
Get the day's latest Coronavirus news delivered to your inbox by subscribing to our newsletter.
---