News > Washington Voices
Skating, skiing spice up survival
Activity, tenacity mark 53-year union
Thu., May 14, 2009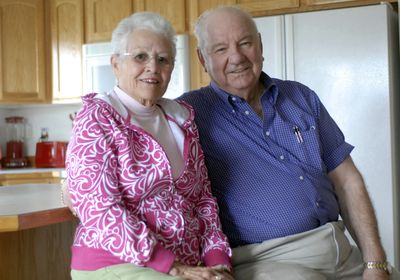 Marveline Swynenburg knows all about famous last words. As a young girl, she declared, "I will never marry a man named Albert, a farmer or someone who can't dance." But 53 years ago, she did just that.
From their Spokane Valley home the couple reminisced about their lives together. However, Marveline offered a disclaimer: "This isn't one of those touchy, lovey-dovey love stories," she said. "This is a story of survival." And then she laughed.
Laughter is something that comes easily for both Albert and Marveline. It might just be the reason their love has endured for more than half a century, even if their beginning was less than auspicious.
Albert recalled the first time he asked Marveline out. "I was standing at the skating rink and she skated by. I asked if I could take her home." He paused, and his eyes twinkled. "She said, 'No!' then she circled around the rink and came back and said, 'I wouldn't go out with you if you were the last man on earth!"
Albert got the message and moved on, but he didn't forget Marveline. After serving two years in the military Special Forces, he returned to Grandview, Wash., to work on his family's farm. "When I got out (of the service) I asked her to go skating with me," he said. "I haven't gotten rid of her since!"
And so, despite Marveline's earlier declaration, on Dec. 3, 1955, she married a farmer named Albert and then taught him how to dance.
That was the easy part.
Married life came with its share of challenges. Though they'd both been raised in the small community of Grandview, their family backgrounds were quiet different. Albert, one of seven children, grew up in a boisterous family. Marveline, whose siblings were much older, said, "I was raised like an only child."
What helped ease this transition? "She was crazy about me," Albert asserted, threw back his head and laughed.
"I'll tell you what," his wife replied with a glance at her chuckling husband. "He has the greatest sense of humor!"
After the wedding, they moved onto the homestead. Marveline finished nursing school, and within 5 1/2 years, four children were added to their family.
Years of hard work followed. All of their children graduated from Grandview High School, just like their parents. But their oldest son's graduation proved especially memorable – and frightening.
"Kevin went to a graduation party at a friend's house," Marveline recalled. "He dove into the swimming pool and broke his neck."
After a month in the hospital, followed by surgery and time in a full-body cast, Kevin recovered and is now a firefighter in Renton. The shared joys and sorrows of raising their family drew the Swynenburgs closer, but Marveline grew tired of the agricultural life.
"He promised me if I found him a job, he'd leave farming," she said. When she discovered a nearby nursing home needed a manager, Albert sold his shares of the farm to his brothers and took the job. After 20 years of the toil and uncertainty of farming, he was ready to move on.
But after a lifetime spent outdoors, he found he wasn't suited to a desk job. A friend needed a driver for his milk transportation business, and Albert embarked on a new career.
With their children grown, they enjoyed an active lifestyle. They'd always been avid golfers, but in their mid-40s they discovered a passion for skiing. Albert said they'd wanted to learn when they were younger, but, "I couldn't afford it. I had to pay for all that roller skating."
Their love of the sport culminated in a European vacation. "We skied in Italy and Switzerland," Marveline said, recalling their hotel room with a view of the Matterhorn.
That shared passion for travel spurred many adventures. "We got a wild hair and bought a small motel in Lincoln City, Ore.," Marveline said. They ran the business together and enjoyed living a mere 50 feet from the ocean. From there they moved to a high-rise apartment in downtown Portland. Marveline taught nursing and Albert drove a truck. They'd wandered a long way from the family farm, but they continued to roam.
Thick black lines on a map in their garage trace the extent of the couple's travels. "We've been to every state but Alaska," Marveline said.
They finally settled in Spokane in 1996 to be near their youngest daughter. In December they celebrated their 53rd wedding anniversary in a way they never care to repeat. Marveline was hospitalized with an agonizing pain in her side. Albert sat nearby as the morphine kicked in.
"As I was watching her, she was squeezing her hands," he said, mimicking the gesture. "And then she just stopped. I got right up in her face. She wasn't breathing." He called for help and watched as medical personnel began CPR. His eyes filled with tears at the memory. "I still can't handle thinking about it."
It turns out Marveline had been given too much morphine. She's made a full recovery, but that experience has made them treasure their time together all the more.
When asked how they coped with the pressures of family life, Marveline quickly replied, "In my generation we didn't talk about stress. You did what you had to do and went on." She paused, smiling at her husband. "We just laughed our way through."
Local journalism is essential.
Give directly to The Spokesman-Review's Northwest Passages community forums series -- which helps to offset the costs of several reporter and editor positions at the newspaper -- by using the easy options below. Gifts processed in this system are not tax deductible, but are predominately used to help meet the local financial requirements needed to receive national matching-grant funds.
Subscribe to the Coronavirus newsletter
Get the day's latest Coronavirus news delivered to your inbox by subscribing to our newsletter.
---