News > Business
Auto dealerships getting the ax
Chrysler, GM begin sending out notices; closures could affect up to 150,000 jobs
Fri., May 15, 2009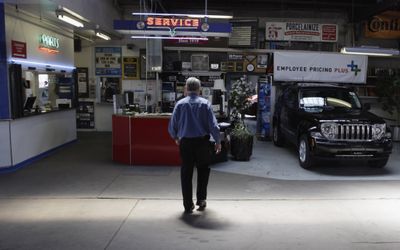 WASHINGTON – Detroit's woes are hitting Main Street with a vengeance.
Chrysler moved Thursday to eliminate 789 of its dealers, using its bankruptcy status to break their franchise contracts. In the Inland Northwest, the Chrysler dealerships to be terminated include those associated with Taylor-Parker Motor Co. in Sandpoint, Pete's Garage in Ritzville, Wash., and Ambassador Auto Service in Moscow, Idaho.
Additionally, as many as 1,200 General Motors Corp. dealers are expected to receive termination notices as soon as today, with an additional 1,400 coming as GM works to meet a June 1 restructuring deadline.
By the time the dust settles, nearly 20 percent of the nation's roughly 19,000 auto dealerships will be forced out of business, casualties of attempts by GM and Chrysler to get past the worst industry slump in decades.
And while much of the carnage from the industry's decline to date has fallen on auto workers in Rust Belt states, the forced extinction of so many dealers brings the huge economic impact of the crisis home to both small towns and urban neighborhoods alike – areas where dealers have reputations as civic leaders.
"This is certainly a hit to the economy," said Gary Schlossberg, senior economist at Wells Capital Management in San Francisco. But "I think the bigger impact would be on the local economies."
The National Automobile Dealers Association estimates that nearly 38,000 jobs could be lost in the Chrysler closures, and as many as 150,000 by the time GM's targeted dealerships are shuttered.
Hundreds of small and midsize towns around the country rely on sales taxes for as much as 30 percent of their revenue and now face more budget woes without their dealerships. Meantime, customers in rural areas now will be forced to drive past closed dealerships and travel great distances to get warranty service on their vehicles.
With nearly 10,000 dealers between them, both GM and Chrysler have repeatedly said they have too many dealers, a legacy from decades of operations and former dominance in the U.S. market. Foreign brands now control more than half of U.S. auto sales by volume.
To show the drag of dealerships, Chrysler said in a bankruptcy filing that Toyota, with about 1,400 U.S. dealers, sold an average of 1,292 cars and trucks per showroom last year while Chrysler, with about 3,280 dealers, sold 303 vehicles per showroom.
This so-called over-dealered status hurts profits, automakers said, which in turn cuts into customer service and prevents upgrades to aging showrooms. That could hurt the brand image, making it less competitive. Ultimately, they argue, that leads to fewer sales and diminished profits.
Chrysler, which has borrowed $4.5 billion from the federal government, filed for bankruptcy protection two weeks ago and is being merged with Italian automaker Fiat. Its cuts will leave it with 2,392 dealers nationwide.
"We're going to have a much more powerful, profitable Chrysler distribution system going forward," Chrysler Vice Chairman Jim Press said in announcing the contract rejections.
GM, which is attempting to avoid bankruptcy and has borrowed $15.4 billion from taxpayers, said in its latest restructuring plan that it would purge 42 percent of its U.S. dealers by late 2010, leaving it with 3,600.
Franchised auto dealers, which are independent businesses, have vociferously opposed the cuts, arguing that the industry's significant woes are not their fault. They claim that cutting dealers could hurt GM and Chrysler because it could lower the visibility of their brands in many locations and reduce overall sales.
This week, hundreds of dealers were in Washington, meeting with congressmen as well as the Obama administration's auto task force to protest the cuts.
"Dealerships don't cost the automakers one cent, and cutting them doesn't save them any money," said Peter Welch, president of the California New Car Dealers Association.
"This is going to have a cascading effect on dealership employees, communities and local governments," Welch said.
Local journalism is essential.
Give directly to The Spokesman-Review's Northwest Passages community forums series -- which helps to offset the costs of several reporter and editor positions at the newspaper -- by using the easy options below. Gifts processed in this system are not tax deductible, but are predominately used to help meet the local financial requirements needed to receive national matching-grant funds.
Subscribe to the Coronavirus newsletter
Get the day's latest Coronavirus news delivered to your inbox by subscribing to our newsletter.
---