News > Spokane
Investigators say truck hit moose, then woman
Fri., May 15, 2009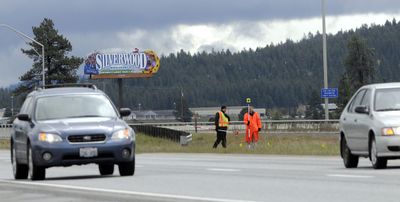 A 19-year-old Spokane Valley woman was killed Wednesday night after she hit a moose with her car eastbound on Interstate 90 near Liberty Lake, got out to look and was struck by a pickup, state troopers said Thursday.
Alexandra E. Phillips died at the scene of the accident.
All four lanes of I-90 were closed after the 9 p.m. accident and did not reopen until nearly 1 a.m. Traffic was detoured.
Washington State Patrol troopers said four cars struck the moose after it went onto the freeway between Liberty Lake and Stateline.
Troopers said that after Phillips struck the moose, her 2007 Chevrolet Cobalt went off the roadway and came to rest in the median. She got out of the car and was standing in the median when a pickup driven by Lindsey E. Carr, 24, of Spokane Valley, also struck the moose. Carr's pickup went off the roadway into the median, striking the Cobalt and then Phillips, troopers said.
Trooper Troy Briggs said two vehicles going west also hit the moose. The animal was killed.
Phillips was an honor roll student in the East Valley School District, according to news files.
Traffic accidents involving wildlife make up a small percentage of all collisions – a little more than 1 percent in Washington state in 2006 and 2007. The vast majority result in no injuries, according to state collision data summaries.
There were about 1,600 accidents in both 2006 and 2007 involving wildlife in Washington.
Local journalism is essential.
Give directly to The Spokesman-Review's Northwest Passages community forums series -- which helps to offset the costs of several reporter and editor positions at the newspaper -- by using the easy options below. Gifts processed in this system are not tax deductible, but are predominately used to help meet the local financial requirements needed to receive national matching-grant funds.
Subscribe to the Coronavirus newsletter
Get the day's latest Coronavirus news delivered to your inbox by subscribing to our newsletter.
---