News > Business
Luxury log building company has a deal on two structures
Fri., May 15, 2009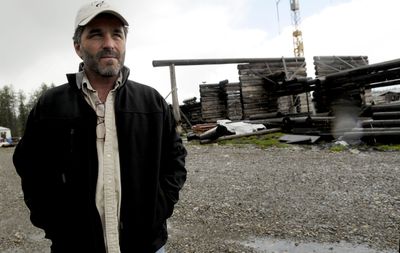 Two almost-complete luxury log buildings in North Idaho are sitting in the yard at Edgewood Log Structures, and company owner Brian Schafer has a deal for anyone who will take one or both off his hands.
Edgewood, located about one mile north of the Silverwood Theme Park on Highway 95, was stuck with the buildings when the would-be owners lost their financing, he said.
Now, Schafer said he is willing to part with them at prices well below list.
An 11,000-square-foot lodge, for example, was headed for a development near Bend, Ore. The estimated cost of construction was $3.5 million.
The log components of the completed lodge can be had for $1.1 million, or for $350,000 as is.
The second building is a 4,400-square-foot home intended for a resort near Zion National Park in southern Utah.
Schafer said the partners had a falling-out, and the developer left standing is rethinking the project. The "Buffalo Ridge" model home was to cost $2 million when completed on the resort site. The price for the components of a completed home would be $580,000. The as-is cost is $250,000.
Although both were designed with specific sites in mind, Schafer said the structures are composed of modules that can be realigned to work anywhere. And Edgewood is prepared to make any buyer-requested redesigns.
He said he has received some inquiries about the two packages; a Nebraska family is interested in the Buffalo Ridge kit, as is the Utah developer considering a lodge as a centerpiece of a reconfigured project. "They're very easy to modify," Schafer said.
STCU at Northtown Square
Spokane Teachers Credit Union opened its 14th branch Tuesday – in a location familiar if you ever bought a car from the Wendle auto group.
The family-owned dealership moved from the corner of Division and Wellesley, across the street from NorthTown Mall, last year. And STCU moved into a new retail center, called Northtown Square, on the site. The full-service branch joins Red Lobster, DSW Shoes, Dress Barn, Starbucks and other businesses in Northtown Square.
More than 70,000 cars a day pass the Division and Wellesley intersection. "It's a business hub," said Patsy Gayda, STCU's branch operations director.
The Northtown Square Branch, spanning 3,400 square feet, anchors the north end of the main retail suites, with three lanes of drive-through banking, the outer one with a 24-hour ATM. There's also a 24-hour shared branch kiosk in the vestibule.
It's the second STCU branch to open this year. The Bonner County Branch opened in January in Ponderay, north of Sandpoint.
Banner opens branch on Riverside
Banner Bank celebrated the opening of its Riverside and Post branch in Spokane on Tuesday.
The new branch is at 802 W. Riverside. It features a 24-hour ATM that accepts deposits, a night drop and a customer lounge with plasma TV and coffee center.
Banner Corp. is the parent company of Banner Bank, a commercial bank that operates 87 branch offices and eight loan offices in Washington, Idaho and Oregon.
Love & Laughter day care moving
Love & Laughter, a new family-owned day care, is moving into a new North Spokane building at 9510 N. Newport Hwy.
The day care is across from the Wal-Mart superstore; despite the Newport Highway address, the building is physically on Holland Avenue.
Operating the day care are Ruthie and James Reidt. The new building will be 8,800 square feet, replacing a previous building that was torn down earlier this year.
CHAS staff at new location
Spokane-based Community Health Association of Spokane will consolidate some of its staff into the newly remodeled third floor of the Liberty Building, the agency's executive director Peg Hopkins said.
CHAS has five Spokane-area clinics providing medical and dental care to area residents.
After searching downtown for a new central office, Hopkins found 12,000 square feet available in Liberty Building, 203 N. Washington.
The space was formerly used by Washington Mutual Bank.
The move will allow CHAS to relocate about 55 staff members in early July, said Hopkins.
CHAS negotiated a 10-year lease with Liberty Building Managing Partner Shannon Ahern.
"This move is budget-neutral," Hopkins said. By consolidating offices from four of its buildings, CHAS gets to add more clinical space for direct care, she said.
Valley Fitness expands
Valley Fitness, established in March 2002, has expanded to nearly twice its original size. The fitness club now spans 11,000 square feet.
It will celebrate Monday, 5-8 p.m., with an open house, including free food, free seminars by instructors, body fat and blood pressure training, and prizes.
Valley Fitness is at 7 North Herald Road, just east of WinCo Foods. Phone: (509) 927-0909.
Sticker Shock Signs moves
Sticker Shock Signs, which for five years operated from the corner of Pines and Sprague, moved recently to a bigger Spokane Valley building at 4023 E. Sprague, said owner Kip Paulsen.
The three-person firm offers a range of print products including vehicle stickers and bus bench advertising.
Staff writers Tom Sowa and Scott Maben contributed to this report. Here's the Dirt is a weekly report on new developments and business openings, closings or movement in the Inland Northwest. E-mail
business@spokesman.com
or call (509) 459-5528.
Local journalism is essential.
Give directly to The Spokesman-Review's Northwest Passages community forums series -- which helps to offset the costs of several reporter and editor positions at the newspaper -- by using the easy options below. Gifts processed in this system are not tax deductible, but are predominately used to help meet the local financial requirements needed to receive national matching-grant funds.
Subscribe to the Coronavirus newsletter
Get the day's latest Coronavirus news delivered to your inbox by subscribing to our newsletter.
---
Subscribe and log in to the Spokesman-Review to read and comment on this story