Sports
More sorrow for M's Morrow
Fri., May 15, 2009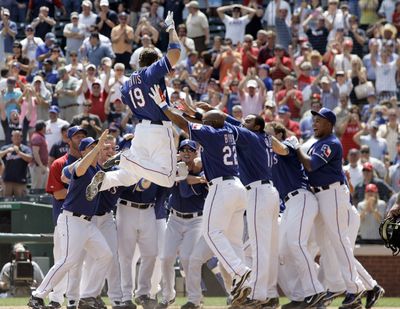 ARLINGTON, Texas – There are losses, there are tough losses, and then there's a separate level of pure agony reserved for games like the Seattle Mariners let slip away the past two days.
After Felix Hernandez pitched brilliantly for seven innings on Thursday to put the Mariners on target to salvage the final game of a brutal trip, embattled closer Brandon Morrow couldn't get the final three outs.
Again.
For the second straight day, Morrow and the Mariners trudged off the field as the Rangers celebrated jubilantly – this time a 3-2 victory on Chris Davis' dance-off, two-run homer to center.
"We should have won the series," said a grim Morrow as the Mariners hurried off for their flight back to Seattle, lugging the baggage of nine losses in their past 10 games.
"But because of two-thirds of an inning – and both days by me – it's tough to swallow."
A night earlier, Morrow had given up a two-run double to Hank Blalock in the 11th to turn a 5-4 Mariners lead into a 6-5 Texas victory.
Less than 24 hours later, Morrow was handed a 2-0 advantage, built on Hernandez's four-hit effort over seven innings, and a smooth 1-2-3 eighth by David Aardsma.
Mariners manager Don Wakamatsu said he had no hesitation pulling Aardsma at that point to call upon Morrow for the ninth.
"You can sit here and say the gamble was just as big not to put him in there," Wakamatsu said. "You have to find out about your players. You never want it to end that way, but he has to be in that situation.
"You take a lot of confidence away right there (if you don't put Morrow in the game). He had to find out. Again, no one wants it to end that way. But to be able to play that caliber baseball is what we're looking for."
How Morrow bounces back from another failed closing effort is the next question to be answered, of course.
"They talk about the mentality of a closer, how tough it is," Wakamatsu said. "To have all your teammates out there battling for eight innings or so, and give it up on a pitch or so. It's something he's going to have to deal with."
Still, being swept by division-leading Texas, despite leading or being tied in all but five innings out of 29 in the series, was a major blow for the Mariners.
"It was a game that really could have helped us," Wakamatsu said.
The Mariners' ace, Hernandez, did all he could do to stem the tide. Working his sinker with precision, Hernandez blanked the Rangers on four hits, striking out six, over seven innings.
The Mariners got just five hits as lefty Matt Harrison became the first Texas left-hander to win consecutive complete games since Kenny Rogers in 1994. But the Mariners thought they had done all the damage they would need in the fourth, when they bunched three of their hits for two runs. Russ Branyan's groundout brought home one run, and Wladimir Balentien's double drove in the other.
Notes
M's left-hander Erik Bedard will likely miss his next scheduled start Saturday against Boston because of a tight right hamstring. Wakamatsu said he should be able to make a decision on today. Wakamatsu said the Mariners would likely fill his spot in the rotation from the current staff.
Local journalism is essential.
Give directly to The Spokesman-Review's Northwest Passages community forums series -- which helps to offset the costs of several reporter and editor positions at the newspaper -- by using the easy options below. Gifts processed in this system are not tax deductible, but are predominately used to help meet the local financial requirements needed to receive national matching-grant funds.
Subscribe to the sports newsletter
Get the day's top sports headlines and breaking news delivered to your inbox by subscribing here.
---