News > Idaho
Rammell eyes governor's office
Former elk rancher rejoins Republicans
Fri., May 15, 2009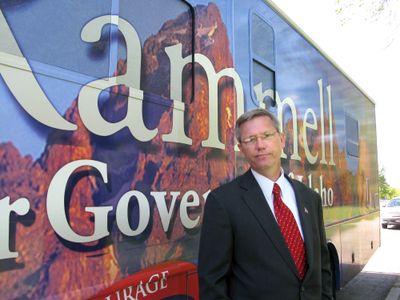 BOISE – Rex Rammell, now a Republican candidate for governor of Idaho, has changed the colorful graphics on his giant "Conservative Express" campaign RV twice in the past month and a half.
First he changed "Time for a new kind of Senator" to "Time for a new kind of Congressman," when the former independent candidate for U.S. Senate decided to take on U.S. Rep. Mike Simpson next year in the GOP primary.
Then the graphics had to be adjusted again – "Congressman" has been replaced with "Governor."
Rammell announced his run Wednesday, saying he'll challenge Gov. Butch Otter in the GOP primary if Otter decides to seek another term.
"I watched what Butch had done," said the veterinarian and former elk rancher from eastern Idaho. "He reminded me of a guy that's not going to run for re-election. Usually, if you want to be re-elected, you don't go cause a bunch of trouble.
"I could be totally wrong," he added.
He said his observation of politicians shows that "these guys, when they're up for re-election, they're pretty careful, every one of 'em. And he totally isn't at all."
Otter hasn't said if he'll seek another term when his first term ends next year, nor have any other candidates announced plans to enter the race.
Rammell said if he ends up running against the incumbent governor in the primary, "My position would be that Butch had done a lot of damage to himself by picking a fight with the Legislature, and he would be vulnerable to defeat by a Democrat in 2010."
Rammell took just 5.4 percent of the vote when he ran for the U.S. Senate last year, in something of a grudge match against now-Sen. Jim Risch. Risch was governor when dozens of elk escaped from Rammell's elk ranch; Risch ordered them killed, a move Rammell's been decrying, and suing over, since.
A former GOP legislative candidate, Rammell left the Republican Party to challenge Risch as an independent last year. "Everyone knows that I was running as an independent because I was angry with the Republican Party," he said. "I was mad that they gave Risch a pass for killing my elk. I said, 'This is the party of private property rights.' "
Now, he said, "The Republican Party is reforming itself and they're coming my direction."
Local journalism is essential.
Give directly to The Spokesman-Review's Northwest Passages community forums series -- which helps to offset the costs of several reporter and editor positions at the newspaper -- by using the easy options below. Gifts processed in this system are not tax deductible, but are predominately used to help meet the local financial requirements needed to receive national matching-grant funds.
Subscribe to the Coronavirus newsletter
Get the day's latest Coronavirus news delivered to your inbox by subscribing to our newsletter.
---