News > Nation/World
'Slumdog' star's home torn down
Boy, 10, lived in shanty in Mumbai, India, slum
Fri., May 15, 2009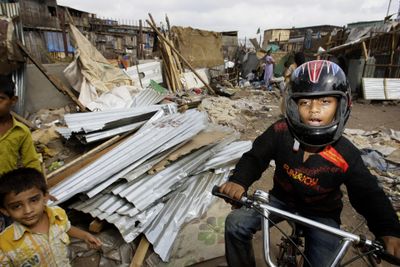 MUMBAI, India – The 10-year-old child star of "Slumdog Millionaire" was awakened Thursday by a policeman wielding a bamboo stick and ordered out of his home. Minutes later it was bulldozed along with dozens of other shanties in the Mumbai slum he calls home.
"I was frightened," said Azharuddin Mohammed Ismail, who lost his pet kittens in the chaos.
Eight Oscars and $326 million in box office receipts have done little so far to improve the lives of the two impoverished child stars plucked from obscurity to star in the blockbuster. They have been showered with gifts and brief bursts of fame, but their day-to-day lives in the Garib Nagar slum – the "city of the poor" – are little changed.
After the latest misfortune, Azhar and his family will be spending the night on the muddy ground surrounded by the rubble of their shack. His 9-year-old co-star Rubina Ali has fared no better: her family's shanty was flooded for days last month with sewage water from a backed-up drain.
For Azhar's family, the latest problem began at 11 a.m. Thursday, when a bulldozer and about 100 men descended on the slum to tear down 30 illegally built homes – a common occurrence in India's chaotic cities, where officials struggle to keep crowding under control.
U.D. Mistry, an official with the city's Bombay Municipal Corporation, said the latest razing was part of a "pre-monsoon demolition drive."
He said only illegally built shanties – not homes that were legally owned – were bulldozed.
Mistry said shanty dwellers who can prove they have lived there more than 15 years – which would include Azhar's family – will be resettled elsewhere in government housing.
"Slumdog" filmmakers say they've done their best to help the young stars. They set up a trust to ensure the children get proper homes, a good education and a nest egg when they finish high school. They also donated $747,500 to a charity to help slum kids in Mumbai.
Azhar's parents say the filmmakers have budgeted $30,000 to get them a new apartment – an amount they insist is inadequate in Mumbai's pricey real estate market.
Local journalism is essential.
Give directly to The Spokesman-Review's Northwest Passages community forums series -- which helps to offset the costs of several reporter and editor positions at the newspaper -- by using the easy options below. Gifts processed in this system are not tax deductible, but are predominately used to help meet the local financial requirements needed to receive national matching-grant funds.
Subscribe to the Coronavirus newsletter
Get the day's latest Coronavirus news delivered to your inbox by subscribing to our newsletter.
---