Sports > Seattle Mariners
Ichiro hits two homers in M's win
Sat., May 16, 2009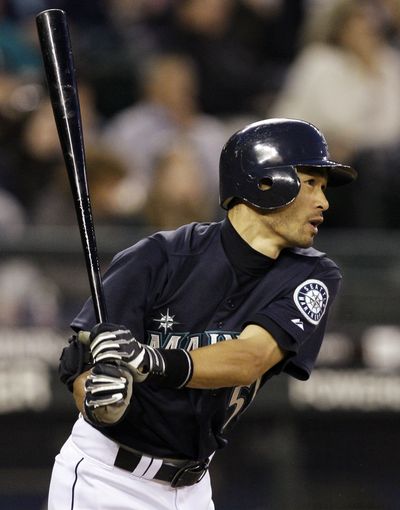 SEATTLE – Was it something Larry the Cable Guy said?
Hours after rubbing hairy shoulders with comedy's redneck king, Ichiro Suzuki did something else you might not expect. He became a power hitter and led the Seattle Mariners to a 5-4 victory Friday night over the Boston Red Sox at Safeco Field.
Ichiro hit two home runs, including a two-run blast in the sixth inning that put the Mariners ahead. Then they performed something unseen in more than a week – relief pitching that held the lead as Sean White, Mark Lowe and David Aardsma stymied the Red Sox.
"It's a club that came out to play tonight," manager Don Wakamatsu said.
The Mariners' day of oddities began with a guest appearance by comedian Larry the Cable Guy, who took a round of batting practice and did what he could to bring smiles to a team that didn't laugh a lot on a 1-7 road trip.
Larry took his hacks, cracked a few jokes and left for his gig at the Tacoma Dome, leaving the Mariners to do what they could to break their spell of losses, including two last-at-bat heartbreakers at Texas. It took some uncommon efforts.
Yuniesky Betancourt, back from a two-game benching, not only abandoned his impatient hitting approach, he walked his first two times at-bat without taking a swing. Then Ichiro made like a middle-of-the-order hitter and gave the Mariners something the middle men haven't – consistent power.
His solo home run in the bottom of the fifth inning made the score 4-1 after the Red Sox had scored once in each of the first two innings, then twice in the third off Mariners starter Chris Jakubauskas.
In the sixth, the Mariners blooped and bled their way on base against Red Sox starter Jon Lester, and delivered the key hits that led to victory.
Russell Branyan flipped a one-out flare into left field for a single and Kenji Johjima followed with a grounder through the hole into left to put runners on first and second.
Then the Mariners caught something else they hadn't gotten in a while – a break.
Betancourt bounced a ball back to the mound in what looked like a sure inning-ending double play. Lester fielded it cleanly and looked to second where Dustin Pedroia was covering, but instead turned to first and threw out Betancourt.
With runners on second and third with two outs, Mariners center fielder Franklin Gutierrez drove them both home with a single to center, making the score 4-3.
Then Ichiro swung a big bat again.
He worked a 3-1 count before connecting on a fastball that barely cleared the fence in right-center field, a two-run homer that gave the Mariners a 5-4 lead. It was Ichiro's fourth home run this season and his fourth career two-homer game.
"Ichiro was a catalyst offensively," Wakamatsu said.
Could he become the missing power source on this team?
"That's a tough order, to ask a player who's a 200-hit-a-year guy to change his swing," Wakamatsu said. "You think of Wade Boggs, but that's hard to say."
Or, as Ichiro put it: "I'm not Sadaharu Oh. I can't do it that way."
The Mariners didn't walk off this tightrope until the final pitch from Aardsma sewed it up.
Despite his mistakes early, Jakubauskas retired 12 of the final 14 hitters he faced, and that included an error by Betancourt that allowed Jason Bay to reach leading off the fifth inning.
Local journalism is essential.
Give directly to The Spokesman-Review's Northwest Passages community forums series -- which helps to offset the costs of several reporter and editor positions at the newspaper -- by using the easy options below. Gifts processed in this system are not tax deductible, but are predominately used to help meet the local financial requirements needed to receive national matching-grant funds.
Subscribe to the sports newsletter
Get the day's top sports headlines and breaking news delivered to your inbox by subscribing here.
---
Subscribe and log in to the Spokesman-Review to read and comment on this story