News > Spokane
Decisive win in India
Ruling party skewers fears of instability
Sun., May 17, 2009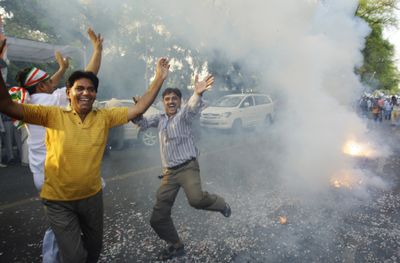 NEW DELHI – The ruling Congress party swept to a resounding victory Saturday in India's mammoth national elections, defying expectations as it brushed aside the Hindu nationalist opposition and a legion of ambitious smaller parties.
The strong showing by the party, which is dominated by the powerful Nehru-Gandhi political dynasty, laid to rest fears of an unstable, shaky coalition heading the South Asian giant at a time when many of it neighbors are plagued by instability, civil war and rising extremism.
Prime Minister Manmohan Singh declared victory, telling reporters that voters had given the Congress party-led coalition a "massive mandate."
The left-of-center Congress, which has long tried to balance free market reforms with a vow to protect the downtrodden in this country of 1.2 billion people, wants a "stable, strong government which is committed to secular values," he said.
The results left the Hindu nationalist Bharatiya Janata Party, the country's other main party, vowing a period of introspection after they failed to capitalize on the economic uncertainty and increased turmoil in Pakistan, India's longtime rival.
"We will analyze these results in detail," said Arun Jaitley, a senior BJP leader conceding defeat. "The BJP accepts the mandate of the people of India with all humility."
With most votes counted, the Election Commission said the Congress-led alliance had won – or was leading in – races for 254 seats in the 543-seat Parliament. The BJP alliance came up short with 153. The Congress party alone, without the support of its coalition allies, had won or was leading in 204 seats, putting it far ahead of all other parties.
While the results were a clear victory for the Congress coalition, it still leaves it short of the 272 seats needed to govern alone and will require the support of other parties. India has been ruled by coalition governments for most of the last two decades.
The Congress party has said that Singh, 76, an economist and technocrat who helped open India's economy nearly 20 years ago, would return to power if it won. But the election was also a victory for party chief Sonia Gandhi's son, Rahul, who emerged as a key strategist and became the party's most visible face. He has been viewed as a future prime minister.
Rahul, 38, is a scion of India's most powerful family – the son of former Prime Minister Rajiv Gandhi, grandson of former Prime Minister Indira Gandhi and great-grandson of Jawaharlal Nehru, India's first prime minister.
Local journalism is essential.
Give directly to The Spokesman-Review's Northwest Passages community forums series -- which helps to offset the costs of several reporter and editor positions at the newspaper -- by using the easy options below. Gifts processed in this system are not tax deductible, but are predominately used to help meet the local financial requirements needed to receive national matching-grant funds.
Subscribe to the Coronavirus newsletter
Get the day's latest Coronavirus news delivered to your inbox by subscribing to our newsletter.
---