News > Spokane
Huntsman tapped as ambassador to China
Obama appointee was McCain 2008 co-chair
Sun., May 17, 2009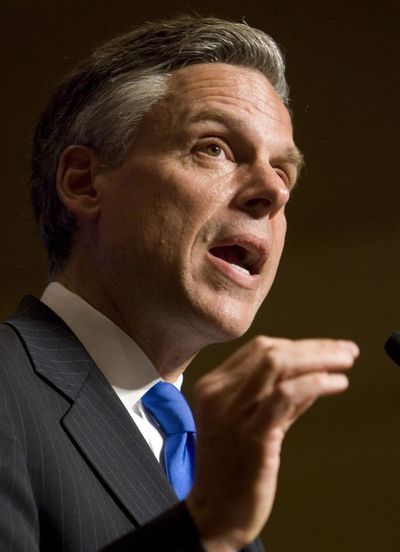 WASHINGTON – President Barack Obama Saturday reached into the Republican ranks for a key foreign policy position in his administration, choosing Utah Gov. Jon Huntsman to be ambassador to China.
"Given the breadth of issues at stake in our relationship with China, this ambassadorship is as important as any in the world," Obama said in announcing the ambassadorship at the White House with Huntsman at his side.
While Huntsman has served as an ambassador to Singapore, speaks fluent Mandarin Chinese and has an adopted Chinese daughter, Obama noted that his selection of "not only a Republican, but a Republican who co-chaired my opponent's campaign for the presidency" wouldn't be the easiest move to explain to some people.
Huntsman also noted the unusual political circumstances.
"Nor did I expect, as national co-chair of Senator (John) McCain's presidential campaign, to be called into action by the person who beat us," Huntsman added.
But Obama called Huntsman "the kind of leader who always puts country ahead of party," whose knowledge and experience prepared him for the challenging job.
Echoing Obama's comment about setting aside party differences, Huntsman said, "When the president of the United States asks you to step up and serve in a capacity like this, that, to me, is the end of the conversation and the beginning of the obligation to rise to the challenge."
Once confirmed by the Senate, as expected, Huntsman will play a critical role in U.S. efforts to recruit Chinese help on several fronts: responding to global economic troubles, addressing climate change and stopping the nuclear ambitions of Iran and North Korea.
Huntsman also will have to address human rights, a long-standing U.S. concern about China, and a matter of importance to Hollywood: piracy.
"With a vast population, a growing economy and far-reaching influence, China will have a crucial role in confronting all the major challenges that face Asia and the world in the years ahead," Obama said.
The 49-year-old Huntsman, who won a second term as governor in November, has drawn criticism from party members for his support of same-sex civil unions.
He also has been critical of his party, telling ABC News last month, "You can't just say no. … It would do us all a whole lot of good if we actually started engaging directly in finding compromises."
His selection drew praise from members of both parties.
Sen. Orrin Hatch, a fellow Utah Republican, called Huntsman's qualifications "tailor-made for this important position on the world stage."
Rep. Howard L. Berman, D-Calif., chairman of the House Foreign Affairs Committee, said the selection of Huntsman "demonstrates President Obama's commitment to a bipartisan foreign policy.
"Gov. Huntsman's Chinese language capabilities, diplomatic, political and entrepreneurial experience make him a solid choice to navigate the complexities of the U.S.-China relationship, including various human rights, trade and security issues," Berman added.
Huntsman, born in California, served as a White House staff assistant to President Ronald Reagan, ambassador to Singapore under President George H.W. Bush and deputy trade representative under President George W. Bush.
Local journalism is essential.
Give directly to The Spokesman-Review's Northwest Passages community forums series -- which helps to offset the costs of several reporter and editor positions at the newspaper -- by using the easy options below. Gifts processed in this system are not tax deductible, but are predominately used to help meet the local financial requirements needed to receive national matching-grant funds.
Subscribe to the Coronavirus newsletter
Get the day's latest Coronavirus news delivered to your inbox by subscribing to our newsletter.
---