News > Business
Urban farmers are turning plots into the latest growth industry
Would-be cultivators find access to arable land is first stumbling block
Sun., May 17, 2009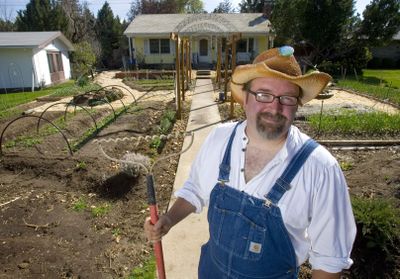 BOISE – Like many entrepreneurial farmers, Marty Camberlango couldn't afford to buy land in Boise, so he found landowners who let him work their land in the city for free or cheap.
"It's the only thing I can do," he said. "I can't afford it any other way."
Most farming in Boise is done on small parcels of land, which are often leased, allowing farmers to feed the growing demand for local produce and make a little money.
But the landowner-tenant relationship requires mutual understanding, and one established farmer warns of the risks new farmers face.
With the growing interest in green economic development and the cost of petroleum, small-plot farming may be the future of urban food production, said Roxanne Christensen of Philadelphia. She is co-writer of "SPIN Farming" learning guides and president of the Institute for Innovations in Local Farming.
SPIN (small-plot intensive) farming is a methodology based on less than an acre of land, which the farmer uses for little or no money. Startup costs are limited because there's not much infrastructure, making farming an option for more people.
"Land access is the No. 1 challenge for new farmers," Christensen said. "The economic downturn is not a factor. One thing they all have in common is they have markets that support them."
There's no doubt the market for local food is growing, said Laura Johnson, section manager of the market development division at the state Department of Agriculture. This year there are 46 farmers markets in Idaho, up from 35 last year, according to state data.
"A lot of markets are adding days," Johnson said. "It's a great opportunity for smaller growers."
Five years ago when Camberlango started farming, he would find plots he liked and post fliers around the neighborhood looking for the landowner.
He works two plots in the city. He and Margie Stoy, retired executive director of the Boise Philharmonic, found each other by word of mouth. This is his second season farming her parcel in northwest Boise. Several farmers before him also have worked there.
Stoy is a longtime advocate of growing local, organic vegetables. When she bought the land about 14 years ago, she wanted to make it productive, but the acre was too much for her to work on her own.
"I lease him the space to grow organic vegetables," Stoy said of her deal with Camberlango. "He is able and I am quite willing to have him pay a significant portion of it in labor. It's win-win."
Underemployed in a tightening job market in the spring of 2008, former Boise Weekly publisher Bingo Barnes decided to do something different with his life.
His girlfriend, Rachel Cross, let him rip out the front lawn at her home on the Boise Bench and plant a massive garden.
"I was worried about the neighbors," Cross said. "The people on either side of me have been here since the houses were built, but the reception has been so, so positive."
Barnes incorporated some of the SPIN farming principles into his work. By June, he had enough produce to sell at the Capital City Farmers Market.
To expand his business, Barnes posted a note on Craigslist looking for land. This year, he has committed to nine gardens, small plots in other people's yards.
"It may be more than I can handle," he confessed.
Some agreements were contractual, some based on a handshake, but none about cash. Landowners agreed to receive a full or half share of a subscription from Barnes' gardens, depending on the size of the plot he's using.
"This year, I'm hoping to make enough money to cover my expenses and grow the business, but I may have to take a part-time job," he said.
Lindsay Medoff and Tricia Hall are in their first growing season together at a home in east Boise. A mutual friend named Oklahoma Jim put them in touch with the Duesmans, who thought they would learn more about farming by letting Medoff and Hall use their land.
"I describe it almost like having a gardening roommate," Elizabeth Duesman said. "Instead of sharing a fridge, we share hoses."
Medoff and Hall hauled in loads of compost and manure, borrowed money and sold 10 subscriptions to get their farm started.
"It's pretty interesting soil. That's been one of our biggest challenges," said Medoff, who also started Jaguar Moon Bags in downtown Boise. The company teaches sewing skills to members of the refugee community and creates bags from recycled materials. "It took us three days to pick up all the rocks."
Kevin Duesman has had a garden for years but said he hadn't been successful with it.
"There's always so much to learn, especially about organics," he said.
The Duesmans also let Medoff and Hall use their tractor and other equipment while the women slowly buy their own.
Medoff and Hall have a formal agreement with the Duesmans for a percentage of the vegetables they grow.
"I want to be sensitive to them," Medoff said. "I want them to want us to come back."
Josie and Clay Erskine have a certified organic farm on three different parcels, totaling about 13 acres. This is their last year on Hill Road, where they have worked the land for seven years.
While leasing land makes it possible to farm within city limits, there is a downside, Josie Erskine said.
"The sad thing is you can build no equity in your business or in the land," she said. "If I were to sell my business, there wouldn't be anything to sell. That's the heartache."
The Erskines are looking for another parcel and hope to stay in Boise. To buy land, they'd have to go as far as Nyssa, Ontario, or Twin Falls.
"What we're looking for is a 30-year lease," Josie said. "I love it here. I really like Boise."
While the couple began their farm by exchanging produce for land use, Josie now calls it "a huge mistake."
"For some reason, you're less valued than if you paid for it," she said.
Local journalism is essential.
Give directly to The Spokesman-Review's Northwest Passages community forums series -- which helps to offset the costs of several reporter and editor positions at the newspaper -- by using the easy options below. Gifts processed in this system are not tax deductible, but are predominately used to help meet the local financial requirements needed to receive national matching-grant funds.
Subscribe to the Coronavirus newsletter
Get the day's latest Coronavirus news delivered to your inbox by subscribing to our newsletter.
---