News > Nation/World
Rebels admit defeat in Sri Lanka
Military rejects surrender, claims top leaders killed
Mon., May 18, 2009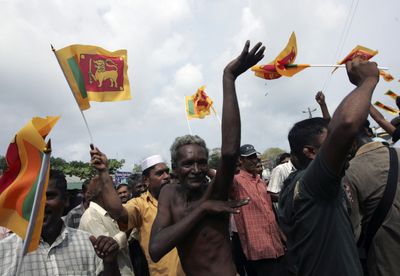 NEW DELHI – The Tamil Tigers admitted defeat Sunday in their quarter-century struggle against the Sri Lankan government and offered to lay down their weapons to protect the fighters and civilians who remain trapped in a sliver of land along the north coast.
Military officials rejected the offer as an act of desperation. They said that fighting continued, and that the army was bracing for suicide bombings. They also claimed that all civilians were out of the combat zone.
The battered remnants of the rebel force, which has been fighting for a homeland for Sri Lanka's marginalized Tamil minority, reportedly are trapped in about half a square mile of land.
Early today, the army announced that it had killed four top Tigers leaders, including the eldest son of reclusive leader Veluillai Prabhakaran.
Those reports could not be confirmed, and Prabhakaran's whereabouts remained a mystery.
On TamilNet, a pro-Tigers Web site, the decimated rebel group – known formally as the Liberation Tigers of Tamil Eelam – said it was putting down its weapons.
"This battle has reached its bitter end," rebel official Selvarasa Pathmanathan was quoted as saying in the online statement. "It is our people who are dying now from bombs, shells, illness and hunger. … We have decided to silence our guns."
But military spokesman Brig. Udaya Nanayakkara said in a telephone interview that TamilNet had a history of lying. On the ground, Tigers rebels continued to attack soldiers in the conflict zone, he said.
"We have to protect ourselves until the rest of the area is liberated," he said by telephone. "If they fire, we will fire back."
The four leaders reportedly killed were political leader Balasingham Nadesan; the head of the rebels' peace secretariat, Seevaratnam Puleedevan; a top military leader known as Ramesh; and Prabhakaran's son, Charles Anthony.
Nanayakkara said that with little territory left to capture, the army was confident it would be able to seize the remaining fighters shortly. Whether they surrender, commit suicide or die fighting is their choice, he said.
The military said Sunday that it had killed at least 70 militants trying to escape by boat while suicide bombers sought to attack army positions.
The conflict has taken an enormous toll on families, communities, Sri Lanka's humanitarian and human-rights reputation, and the economy. With the end of the struggle in sight Sunday, thousands of Sri Lankans danced, lighted fireworks and beat celebratory drums.
Analysts say the Sinhalese majority government is at a crossroads. If it discriminates against the minority Tamil population and fails to show magnanimity in victory, it risks winning the war but losing the peace.
"At the end of the day, it's a political contest that requires a political settlement," said Paikiasothy Saravanamuttu, executive director of the Center for Policy Alternatives in Colombo. "If there's no political settlement, there's a good chance we will see the rise of another LTTE-like group again."
The United Nations and international humanitarian groups have long criticized the apparent lack of concern for civilians by both sides as tens of thousands of people found themselves trapped in the shrinking conflict zone.
The Tamil Tigers, labeled a terrorist group by the U.S., European Union and India, have been accused of using civilians as human shields. The army in turn has been accused of firing indiscriminately. Both sides have denied the charges.
In recent days, concerns mounted for the fate of any civilians trapped in the war zone amid heavy shelling and intense fighting. But Nanayakkara said Sunday that 63,000 civilians had left the area over the preceding 96 hours, many brought out in government vehicles, clearing the way for the final showdown.
At their peak, the Tigers controlled a de facto state over nearly a third of the island's territory, complete with courts, police and a tax system. But their tactical strength belied a weakness in political strategy under Prabhakaran's leadership, contributing to their downfall.
The Tigers missed several opportunities to convert their military gains into political capital at the peace table, a transition that Nepal's Maoists and others have managed. And they alienated India – where many supported their cause given southern India's large Tamil population – by assassinating Prime Minister Rajiv Gandhi in 1991.
Nanayakkara said Sunday that Sri Lanka was providing sufficient humanitarian aid and was not trying to control the media. But he charged that too many media reports had tarnished army actions and the nation's image. "It's not that we just want positive stories," he said. "But we want them to tell the truth."
A week ago, the government deported three journalists with Britain's Channel 4 on the grounds that their stories were "tarnishing the image of the country." The network had broadcast a report quoting what it said were Tamil aid workers inside a humanitarian camp saying that war-displaced people were underfed and mistreated and that some women had been sexually abused.
Nanayakkara said the international media were "taking people for a ride." He complained that even Sunday, a television report characterized the conflict as a civil war.
"When people attack the World Trade Center, it's terrorism, but when it's in Sri Lanka, it's civil war," he said. "We just want them to be truthful."
Local journalism is essential.
Give directly to The Spokesman-Review's Northwest Passages community forums series -- which helps to offset the costs of several reporter and editor positions at the newspaper -- by using the easy options below. Gifts processed in this system are not tax deductible, but are predominately used to help meet the local financial requirements needed to receive national matching-grant funds.
Subscribe to the Coronavirus newsletter
Get the day's latest Coronavirus news delivered to your inbox by subscribing to our newsletter.
---
Subscribe and log in to the Spokesman-Review to read and comment on this story