News > Nation/World
Freed journalist back home; national anthem lifted spirits
Sat., May 23, 2009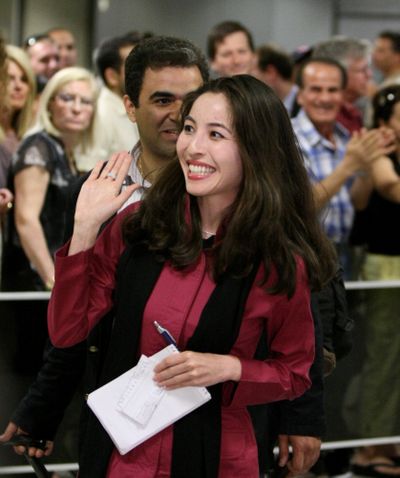 WASHINGTON – An American journalist who spent four months in an Iranian prison was greeted Friday with cheers and hugs from friends as she returned to the United States.
Roxana Saberi told reporters upon her arrival that singing the national anthem helped keep her going. "And it may sound corny, but I'm so happy to be home in the land of the free."
The 32-year-old journalist spoke briefly with reporters after arriving at Washington Dulles International Airport with her parents and a family friend.
She spent a week in Vienna recuperating after being released from prison in Iran. Asked how she was feeling, she said, "Very good."
"I wish I could personally thank all those who supported me during my 100 days in prison," she said. Among those she thanked were President Barack Obama, Secretary of State Hillary Rodham Clinton, North Dakota lawmakers, human rights groups and the Japanese government.
Saberi, who grew up in Fargo, N.D., and moved to Iran six years ago, has dual citizenship.
Saberi was arrested in late January and convicted of spying for the United States in a closed-door trial that her Iranian-born father said lasted only 15 minutes.
She was freed May 11 and reunited with her parents, who had come to Iran to seek her release, after an appeals court reduced her sentence to two years suspended.
The United States had said the charges against Saberi were baseless and repeatedly demanded her release. The case against her had become an obstacle to Obama's attempts at dialogue with the top U.S. adversary in the Middle East.
Saberi had worked as a freelance journalist for several organizations, including National Public Radio and the British Broadcasting Corp.
After her arrest, Iranian authorities initially accused her of working without press credentials, but later leveled the far more serious charge of spying. Iran released few details about the allegations that she passed intelligence to the U.S.
Kevin Melicher, a neighbor of Saberi's parents in Fargo, said the community prayed for Saberi's return and planted flowers in her family yard earlier this week.
"They wanted to do something," he said. "We want to make their house look welcoming."
Local journalism is essential.
Give directly to The Spokesman-Review's Northwest Passages community forums series -- which helps to offset the costs of several reporter and editor positions at the newspaper -- by using the easy options below. Gifts processed in this system are not tax deductible, but are predominately used to help meet the local financial requirements needed to receive national matching-grant funds.
Subscribe to the Coronavirus newsletter
Get the day's latest Coronavirus news delivered to your inbox by subscribing to our newsletter.
---