Sports
James' last-gasp shot allows Cavs to knot series
Sat., May 23, 2009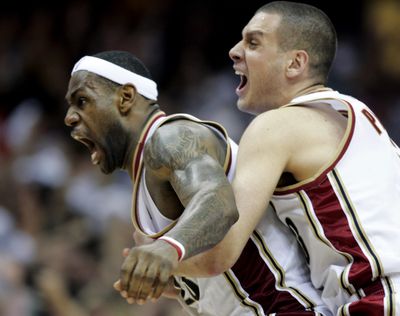 The Cleveland Cavaliers needed a miracle. LeBron James delivered.
James made a fadeaway 3-pointer over Orlando's Hedo Turkoglu as the final horn sounded Friday night to give the Cavaliers, their season a heartbeat from major trouble, a 96-95 victory over the visiting Orlando Magic that evened the NBA Eastern Conference finals at one game apiece.
From 23 feet, James made a shot unlike any in Cleveland history.
Taking the inbounds pass from Mo Williams, James only had time to turn his shoulders toward the rim and fire. As the shot dropped in, James sprinted into the arms of his teammates as 20,562 stunned fans hugged in disbelief.
One second before James' shot, Turkoglu had hit a 12-footer in the lane to give the Magic, who overcame a 23-point deficit in the first half, a 95-93 lead. Cleveland called a timeout and set up a play for James, the league MVP who finished with 35 points.
"We just couldn't afford to go down 0-2," James said. "That's just a great shot. Now we have to get ready for Game 3."
That's Sunday in Orlando.
•Nowitzki's lawyer doubts story: Dirk Nowitzki's lawyer, Robert Hart, said he doubts a woman's claim that she is pregnant with the Dallas Mavericks star's baby.
Christa Ann Taylor, 37, told the Dallas Morning News in an interview from jail this week that Nowitzki was her fiance and that she learned she was pregnant after she was arrested at his house on a probation violation and theft of services warrants.
•Howard has surgery: Dallas Mavericks forward Josh Howard underwent successful arthroscopic surgery to his left wrist and left ankle in New York.
•Sixers interview Ford: Chris Ford, a pro scout with the Philadelphia 76ers who was interim coach five years ago, has interviewed for the team's head coaching job.
A person with knowledge of the interview said Ford was one of two candidates team president Ed Stefanski did not announce publicly. Stefanski also did not say he had talked to Villanova coach Jay Wright, who acknowledged the interview but withdrew from consideration.
•Johnson mulls selling Bobcats: After losing tens of millions of dollars, the first black majority owner of a major professional sports team is exploring selling the Charlotte Bobcats.
Bob Johnson's decision could pave the way for minority investor Michael Jordan to take control of the team – if he can meet the price.
•FIBA asks for bigger field: Basketball's global governing body has asked the International Olympic Committee to include four more teams at the 2012 London Games.
FIBA said from Geneva that having 16 instead of 12 countries would deliver bigger audiences and a more efficient tournament.
Hockey
Blackhawks cash in
Patrick Sharp scored 1:52 into overtime to give the Chicago Blackhawks a 4-3 victory over visiting Detroit, cutting the Red Wings' lead in the NHL Western Conference finals to 2-1.
After a shot by Matt Walker, Chicago's Dustin Byfuglien scrapped for the puck in front of the net, and Samuel Pahlsson slid it across to Sharp, who drove it in for his second goal of the game.
The Red Wings rallied from a 3-0 deficit with three goals in a span of 4:23 late in the second period.
•Windsor sails into finals: Adam Henrique banged in a rebound 4:31 into overtime as the Windsor Spitfires defeated Drummondville 3-2 in the Memorial Cup semifinals at Rimouski, Quebec.
Windsor will meet Western Hockey League champion Kelowna on Sunday for the title.
Golf
Sabbatini shares lead
Rory Sabbatini had four consecutive birdies on the way to a season-best 6-under-par 64 and a share of the second-round lead with John Mallinger at 8-under 132 at the Byron Nelson Championship in Irving, Texas.
First-round co-leader James Nitties is at 7 under along with Brian Davis, Briny Baird, James Driscoll and Dustin Johnson.
•Icher tops Corning Classic: Karine Icher of France fired a 66 and took a two-shot lead at 14-under 130 over Hee-Won Han of South Korea after two rounds at the LPGA Corning Classic at Corning, N.Y.
Six players are tied for third place. Wendy Ward of Edwall, Wash., shot a 69 and is at 141. Tracy Hanson of Rathdrum (149) missed the cut.
•Drummond seizes edge: Scotland's Ross Drummond matched the low round with a 4-under 66 to take a two-stroke lead after the second round of the Senior PGA Championship at Beachwood, Ohio.
•Hernandez, ASU take titles: Purdue's Maria Hernandez shot a 1-under 71 for a one-stroke victory in the NCAA Division I Women's Golf Championship at Owings Mills, Md., and Arizona State beat UCLA by eight shots for its seventh team title.
Football
Vick presses forward
Michael Vick met with probation officials for the second time in the two days he's been home from prison, and prepared to begin a $10-an-hour construction job after the holiday weekend.
Wearing jeans, a light blue shirt and navy blue blazer, the former Atlanta Falcons star quarterback looked straight ahead as he entered the federal courthouse in Norfolk, Va., escorted by his fiancee and a member of his security team. He was joined inside by his lawyer, Lawrence Woodward.
•Judge backs NFL: A federal judge in Minneapolis dismissed most of the claims by Minnesota Vikings stars Kevin Williams and Pat Williams, who are facing suspension over their positive test for a banned diuretic.
Swimming
Torres breaks record
Dara Torres beat her American record in the 50-meter butterfly at the Texas Senior Circuit No. 2 meet at College Station.
Torres, 42, who won three silver medals in Beijing last summer, touched the wall in 25.72 seconds.
•Cavendish claims stage: Mark Cavendish of Britain won the 13th stage of cycling's Giro d'Italia at Florence, Italy, in a mass sprint, the third time he has won a leg of this year's race.
Denis Menchov of Russia kept the overall leader's pink jersey.
Menchov, Danilo Di Luca, Levi Leipheimer and Lance Armstrong finished with the main pack, 8 seconds behind Cavendish.
Local journalism is essential.
Give directly to The Spokesman-Review's Northwest Passages community forums series -- which helps to offset the costs of several reporter and editor positions at the newspaper -- by using the easy options below. Gifts processed in this system are not tax deductible, but are predominately used to help meet the local financial requirements needed to receive national matching-grant funds.
Subscribe to the sports newsletter
Get the day's top sports headlines and breaking news delivered to your inbox by subscribing here.
---