News > Features
Life after 'Idol' not surefire stardom
Key is sustaining popularity
Sat., May 23, 2009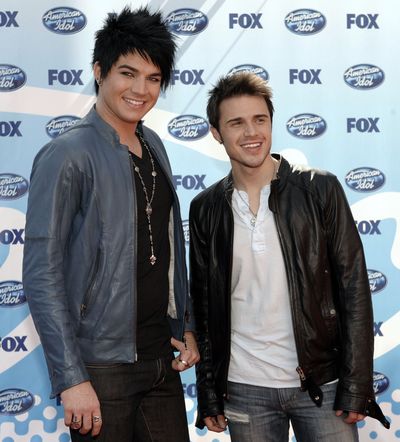 Adam Lambert fans, take heart: At least your guy doesn't have to sing the hokey "No Boundaries," this year's much-mocked "American Idol" ballad, ever, ever again.
That dubious honor will go to winner Kris Allen.
But there are other reasons Lambert lovers can dry their tears. Given the glam-rocker's unique persona, his strong fan base and the massive exposure he's gotten, he may be as likely as any "Idol" winner to achieve that elusive stardom the show tries to create.
Not to take anything from Allen, the fresh-faced, soulful Arkansas crooner who surprised many – including himself, to judge by his stunned expression – by taking the crown. His victory showed he has both the musical chops and the broad-based appeal to be a star, too.
But not simply because he won. Industry insiders say that once that "Idol" bubble breaks at the end of the season, all bets are off.
"It doesn't really matter if you win. It's all about what you do after the show," said Diane Warren, a Grammy-winning songwriter who's written for Whitney Houston, Celine Dion, and Mary J. Blige, not to mention such "Idol" alums as Carrie Underwood, Kelly Clarkson and Jennifer Hudson.
For Lambert, who cut his teeth in musical theater and drew outsized attention from the start with commanding vocals, a signature banshee wail, flamboyant outfits – and yes, the eyeliner and black nail polish – the future is particularly bright, Warren said.
"He's just a hands-down star," said Warren. "He's different. He shook things up."
It may even help that he came in second, she said, because he'll have more control over his career: "There's not as much of a committee plotting your every move."
There's ample evidence that an "Idol" victory does not a star make. Kelly Clarkson, the first-season winner, became a pop radio staple; Ruben Studdard, the next year, did not.
Fourth-season winner Carrie Underwood is arguably the reigning high priestess of country music; the next season's winner, Taylor Hicks, is set to play Teen Angel in the Broadway production of "Grease."
As for the also-rans, Clay Aiken, who lost to Studdard, became a much bigger star. Chris Daughtry, who came in fourth the year Hicks won, sold more than 1 million copies of his self-titled album after five weeks – the fastest-selling debut rock album in history.
And just ask Oscar, Golden Globe and Grammy winner Jennifer Hudson, who came in seventh in Season 3, if there's life after an "Idol" loss.
In any event, the "Idol" machine now will start going to work for Allen.
"I still think it pays to be a winner of this show, if only for the promotion," says Michael Slezak, who blogs about "American Idol" for Entertainment Weekly's Web site.
Local journalism is essential.
Give directly to The Spokesman-Review's Northwest Passages community forums series -- which helps to offset the costs of several reporter and editor positions at the newspaper -- by using the easy options below. Gifts processed in this system are not tax deductible, but are predominately used to help meet the local financial requirements needed to receive national matching-grant funds.
Subscribe to the Coronavirus newsletter
Get the day's latest Coronavirus news delivered to your inbox by subscribing to our newsletter.
---