A&E > Entertainment
Neighborhoods show their stuff
Tours show visitors community efforts
Sat., May 23, 2009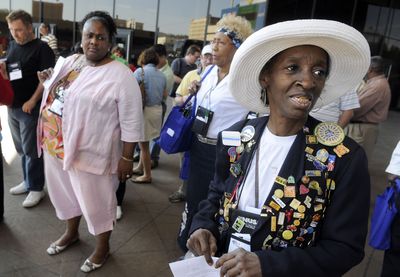 Things are changing for East Central.
The Riverpoint campus continues to grow. Districts on East Sprague and South Perry are attracting businesses and residents. A new affordable housing complex is full and serving seniors.
In a dozen tours given for attendees of a national conference of neighborhood leaders Friday afternoon, neighborhood leaders had a chance to showcase their communities.
"It is gratifying taking a group like this from all over the country and showing some of the things we've done," said Jerry Numbers, a longtime community activist who co-hosted the tour of East Central.
He said the neighborhood struggled to fit all the important sites into four hours, especially when it included a dinner provided by One World Spokane, a new nonprofit restaurant on East Sprague that specializes in locally produced food.
Spokane city and neighborhood leaders have spent two years helping to organize the conference for the nonprofit group, Neighborhoods, USA.
Neighborhood councils designed their own tours, and not all the details were rosy. The Rockwood neighborhood, for instance, planned to discuss its concerns with the placement of a Walgreens. As the East Central tour bus headed east on Sprague, Numbers acknowledged that attendees might notice "young ladies selling their wares."
The East Central tour included many future projects, including the old McKinley School that neighborhood leaders want redeveloped and the old Playfair site where new businesses could bring hundreds of new jobs.
Julian Rogers, who leads a neighborhood council in Los Angeles, said he saw some of the same infrastructure needs in East Central that he sees in his neighborhood. After the tour, he said, he respected the way East Central has fought to modernize while at the same time holding on "to the historical integrity."
Not everything has gone according to plan. Organizers had hoped for about 800 attendees. Instead, only about 425 signed up, as cities and agencies slashed travel budgets in the face of economic turmoil.
And the blue T-shirts for volunteers that have logos of the Riverfront Park tower and charming cartoon homes were supposed to say "Our Place is Your Place." Because of a printing error, the Y is missing.
"That was the one snag that really was visible," said Jonathan Mallahan, director of neighborhood services and code enforcement for Spokane.
Actions, however, speak louder than words.
Terri Strong, sheriff's jail detective in Shelby County, Tenn., who is working to build partnerships among neighborhoods, said she's been made to feel at home.
"It has been very inviting," she said.
Local journalism is essential.
Give directly to The Spokesman-Review's Northwest Passages community forums series -- which helps to offset the costs of several reporter and editor positions at the newspaper -- by using the easy options below. Gifts processed in this system are not tax deductible, but are predominately used to help meet the local financial requirements needed to receive national matching-grant funds.
Subscribe to the Spokane7 email newsletter
Get the day's top entertainment headlines delivered to your inbox every morning.
---