News > Features
No doubting his sax appeal
Sat., May 23, 2009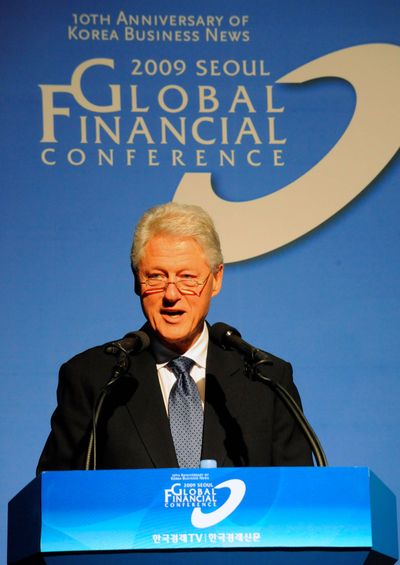 Bill Clinton's saxophone and Robert Pattinson's lips have helped a star-studded charity event raise money to fight AIDS.
An alto sax signed and donated by the former U.S. president was one of the star lots at the Cinema Against AIDS benefit on the sidelines of the Cannes Film Festival, selling for $180,000.
There was also keen bidding on two kisses from "Twilight" star Pattinson, which raised $28,000 each.
Sharon Stone hosted the 16th annual event Thursday at the exclusive Hotel du Cap on the French Riviera.
Annie Lennox entertained about 800 guests, including Paris Hilton, model Claudia Schiffer, director Terry Gilliam, rapper 50 Cent and scientist James Watson, one of the discoverers of DNA.
Stone urged people to give generously despite the global economic slump.
"Looking down at the price of my own shoes, we in this room cannot pretend that we have nothing to give," she said.
Proceeds from the event go to the American Foundation for AIDS Research (amfAR).
Kiefer clears the air
Kiefer Sutherland and the designer he is accused of head-butting said Friday they've resolved their differences, clearing the way for criminal charges to be dropped.
Sutherland was charged with third-degree assault in the incident two weeks ago at a trendy Manhattan nightclub.
Jack McCollough claimed Sutherland broke his nose after they got into an argument.
But will it still be as tan?
George Hamilton is having his right knee replaced.
His publicist said the 69-year-old actor first injured his knee while starring in "Chicago" on Broadway, and decided to have it replaced after he injured it a second time while competing on "Dancing With the Stars" in 2006.
Penn rewrites his script
Sean Penn has withdrawn his petition to separate from his wife of 13 years.
The Academy Award-winning actor has been granted a dismissal of his request for a legal separation from actress Robin Wright Penn, which he now calls an "arrogant mistake."
The couple filed for divorce in December 2007 but dismissed that several months later.
Wish we could rewrite that one
Heath Ledger's final performance has been presented at the Cannes Film Festival.
Terry Gilliam's "The Imaginarium of Doctor Parnassus" stars Ledger as a slick-tongued man who falls in with a mysterious troupe offering a portal to fantasy worlds.
Gilliam finished the film – which closes with the dedication "A film from Heath Ledger and friends" – with Johnny Depp, Jude Law and Colin Farrell taking Ledger's role in three trips to make-believe realities.
The birthday bunch
Actress Barbara Barrie is 78. Actress Joan Collins is 76. Actor Charles Kimbrough ("Murphy Brown") is 73. Actress Lauren Chapin ("Father Knows Best") is 64. Comedian Drew Carey is 51. Actor Linden Ashby ("Melrose Place") is 49. Actress-model Karen Duffy is 48. Singer Lorenzo is 37. Singer Maxwell is 36. Singer Jewel is 35.
Local journalism is essential.
Give directly to The Spokesman-Review's Northwest Passages community forums series -- which helps to offset the costs of several reporter and editor positions at the newspaper -- by using the easy options below. Gifts processed in this system are not tax deductible, but are predominately used to help meet the local financial requirements needed to receive national matching-grant funds.
Subscribe to the Coronavirus newsletter
Get the day's latest Coronavirus news delivered to your inbox by subscribing to our newsletter.
---