News > Nation/World
Obama vows to sustain U.S. military dominance
Sat., May 23, 2009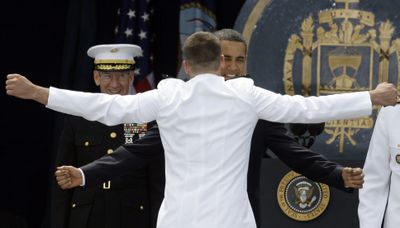 ANNAPOLIS, Md. – President Barack Obama promised graduating midshipmen at the U.S. Naval Academy on Friday that, as their commander in chief, he will only send them "into harm's way when it is absolutely necessary."
In his first address to military graduates, Obama also pledged to invest in the men and women who defend America's liberty, not just in the weapons they would take with them into battle against 21st century threats.
"I will only send you into harm's way when it is absolutely necessary, and with the strategy, the well-defined goals, the equipment and the support that you need to get the job done," the president told more than 1,000 graduates during a sun-splashed ceremony at Navy-Marine Corps Memorial Stadium.
Obama said he has halted reductions in the Navy, is building up the Marine Corps and investing in the hardware – combat ships, submarines and fighter aircraft – they'll need to do their jobs. He promised higher pay, enhanced child care and improved support and other benefits.
"In short, we will maintain America's military dominance and keep you the finest fighting force the world has ever seen," Obama said, as more than 30,000 watched from the stands.
The president also praised the role of Navy SEALS in freeing a U.S. sea captain by killing his Somali pirate captors last month.
"The extraordinary precision and professionalism displayed that day was made possible, in no small measure, by the training, the discipline and the leadership skills that so many of those officers learned at the United States Naval Academy," Obama said in his first public comments on the matter.
Among those receiving degrees was John S. McCain IV, the son of Obama's presidential rival, Sen. John McCain, who watched from a front-row seat on the grassy field with his wife, Cindy, his mother, Roberta, and several of his children. Had the Arizona Republican, who also graduated from the academy, defeated Obama, McCain could have addressed the Class of 2009 himself.
Obama and "Jack" McCain, a fourth-generation academy graduate, shared a handshake, an embrace and a few words when the young man was called up to receive his diploma, following in the footsteps of his father, grandfather and great-grandfather.
Presidents typically deliver the commencement address at one of the service academies each year. Friday's speech was the third graduation address by Obama in the past nine days.
Local journalism is essential.
Give directly to The Spokesman-Review's Northwest Passages community forums series -- which helps to offset the costs of several reporter and editor positions at the newspaper -- by using the easy options below. Gifts processed in this system are not tax deductible, but are predominately used to help meet the local financial requirements needed to receive national matching-grant funds.
Subscribe to the Coronavirus newsletter
Get the day's latest Coronavirus news delivered to your inbox by subscribing to our newsletter.
---