News > Spokane
Patient effort restoring Hood Canal steelhead
Sat., May 23, 2009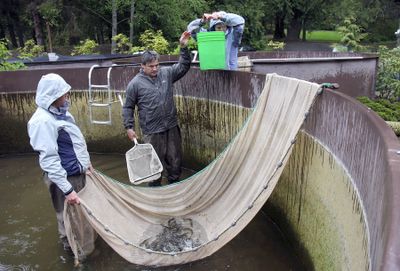 DEWATTO, Wash. – Sean Hildebrant aimed the heavy hose toward the sky, then watched as hundreds of 7-inch steelhead fry flew out in a geyser of water, landing smoothly in the Dewatto River.
In a few minutes, the tanker truck was empty. The 2-year-old fish suddenly found themselves in a much larger space than the tanks in which they had been reared. Soon, they will head out to Hood Canal and beyond.
These Dewatto steelhead are part of a diminishing Puget Sound population listed as "threatened" under the Endangered Species Act. They have become part of an elaborate experiment to see if steelhead populations can be restored to healthy numbers in Hood Canal.
The recovery program, started 11 years ago in the Hamma Hamma River, has yielded valuable lessons for steelhead hatcheries everywhere, according to Barry Berejikian, a researcher with the National Marine Fisheries Service. The Hamma Hamma effort has boosted the number of steelhead in the river from about 17 each year before 2001 to well more than 100 in recent years.
Hildebrant, of the Hood Canal Salmon Enhancement Group, was part of a farewell contingent for the Dewatto steelhead, which were taken two years ago from wild steelhead nests in the river. Only a small fraction of the available eggs were removed from any of the gravelly nests, known as redds. The fish were hatched, fed and cared for at the Lilliwaup hatchery, where manager Rick Endicott of Long Live the Kings and his staff kept a close watch on the precious brood.
"You never sleep," Endicott said. "You lie in bed at night and listen to the rain, wondering if a flood could come and wipe everything out."
Raising steelhead fry slowly for two years has its risks, but it more closely mimics natural conditions, Berejikian said.
"One of the criticisms we hear is that this is different from the way we operate hatcheries now," he said. "But we are doing this for a reason. We are shooting for a more enlightened approach."
Steelhead hatcheries typically feed their steelhead a heavy diet to boost their size for release after their first year. But the slowly fed 2-year-olds seem to survive at a much higher rate. In fact, holding fish for an extra year appears to be so successful that it may become the norm – particularly for a new breed of hatcheries aimed at increasing natural populations rather than just producing fish for sport and tribal fisheries.
The fish released last week into the Dewatto River are the first of eight groups that will be taken as eggs and returned as 2-year-olds. A nearly identical program is under way for steelhead in the Duckabush and South Fork of the Skokomish River.
The program also is raising fish to 4-year-old adults, ready to spawn. While raising fish that long is even more challenging, preliminary results suggest that the overall production may be best of all, since more of the fish survive.
Local journalism is essential.
Give directly to The Spokesman-Review's Northwest Passages community forums series -- which helps to offset the costs of several reporter and editor positions at the newspaper -- by using the easy options below. Gifts processed in this system are not tax deductible, but are predominately used to help meet the local financial requirements needed to receive national matching-grant funds.
Subscribe to the Coronavirus newsletter
Get the day's latest Coronavirus news delivered to your inbox by subscribing to our newsletter.
---