News > Nation/World
Speaker Pelosi withstands blistering attack by GOP
Sat., May 23, 2009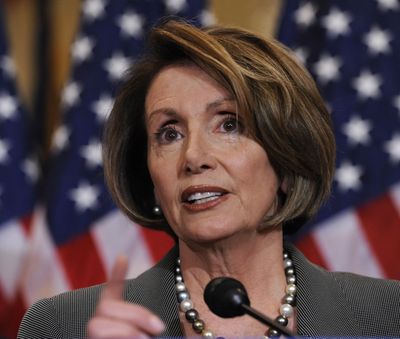 WASHINGTON – House Speaker Nancy Pelosi has avoided serious damage from the relentless Republican effort to discredit her, though there's some evidence that the GOP is making small inroads.
Republicans have been battering the California Democrat over her assertion that the CIA misled her in 2002 about whether terrorism suspects had been tortured.
"This is a case where Republicans can't go much lower than they find themselves," said Steven Smith, a congressional expert at Washington University in St. Louis, "so they have to go after the other side with whatever they can."
So far, though, Pelosi remains a very strong House speaker. She can claim a string of major legislative victories since January, including this week's passage of bills to give consumers more protection against credit card abuses and to crack down on financial fraud.
Her Democratic Party has a 78-seat majority in the House of Representatives, and few if any of them are willing to criticize the speaker.
A May 19 Gallup Poll brought sobering news to Pelosi, however.
"Pelosi (is) largely losing the public relations game, as she gets a significantly more negative review for her handling of the matter than do the other major players in the controversy, including the CIA," Gallup analyst Jeffrey Jones said.
Those who are paying close attention to the flap – only 22 percent of Americans, the survey found – disapprove of her handling of the matter by 63 to 30 percent.
But it appears the public simply isn't very interested. Carroll Doherty, an associate director of the Pew Research Center for the People & the Press, which also conducts national surveys, found that last week the story was "getting some attention for an inside Washington story, but it's a modest number."
Last week's Pew survey found that 67 percent had heard about the closing of General Motors and Chrysler dealerships, but only 38 percent were aware of the Pelosi story.
Pelosi brushed it all aside Friday at a news conference that she called to announce that she wasn't going to talk about it anymore.
"I have made the statement that I'm going to make on this. I don't have anything more to say about it," she said. "I stand by my comment. And what we are doing is staying on our course, and not being distracted from it in this distractive mode."
Local journalism is essential.
Give directly to The Spokesman-Review's Northwest Passages community forums series -- which helps to offset the costs of several reporter and editor positions at the newspaper -- by using the easy options below. Gifts processed in this system are not tax deductible, but are predominately used to help meet the local financial requirements needed to receive national matching-grant funds.
Subscribe to the Coronavirus newsletter
Get the day's latest Coronavirus news delivered to your inbox by subscribing to our newsletter.
---