News > Nation/World
FBI gets bigger role in anti-terrorism shift
Effort will move from military-based to law enforcement
Sun., May 24, 2009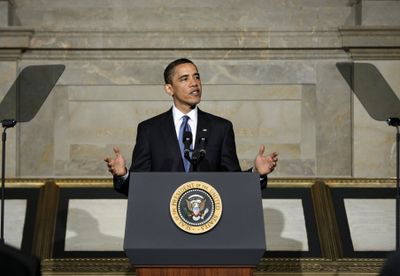 WASHINGTON – The FBI and Justice Department are gearing up to significantly expand their role in global counterterrorism operations as part of a sharp U.S. policy turnabout, in which a system based primarily on clandestine detentions and interrogations will be replaced by one emphasizing transparent investigations and prosecutions of terrorism suspects.
The effort, which has not been disclosed publicly, includes an initiative dubbed "Global Justice." FBI agents would participate more centrally in overseas counterterrorism cases, questioning suspects and gathering evidence to ensure that criminal prosecutions are an option wherever possible, according to U.S. counterterrorism officials familiar with it.
The new initiative has been quietly in the works for several months, and many details have not been finalized. But some senior counterterrorism officials and Obama administration policymakers envision it as a centerpiece of the much broader national security framework laid out by President Barack Obama on Thursday that emphasizes a return to the rule of law, or the principle that even accused terrorists have the right to contest the charges against them in some kind of criminal justice setting. Obama said he wanted to construct "a legitimate legal framework" for the war on terrorism.
The new approach effectively reverses the overriding thrust of the Bush administration's war on terror, in which global counterterrorism was treated primarily as an intelligence and military problem and not a law-enforcement one.
Critics, including many national security officials, say those Bush administration policies and practices were ineffective, deeply unpopular internationally and in some cases, possibly illegal – especially the detention and interrogation of terror suspects by the CIA and the military for years and without due process.
"We have no comment on it at this time," FBI Assistant Director John J. Miller, the bureau's chief spokesman, said when asked about the initiative.
The fallout from past policies has been evident recently, as the Obama administration struggles over what to do with the scores of suspected terrorist detainees at the U.S. naval base at Guantanamo Bay, Cuba, as well as hundreds of others still detained in U.S. lockups in Iraq and Afghanistan.
Global Justice is widely seen within U.S. national security circles as an effort to prevent a recurrence of such problems, by starting out with the premise that virtually all suspects will end up in a U.S. or foreign court of law.
That will be the case even if a suspected terrorist is captured on the battlefields of Iraq or Afghanistan, in the Philippine jungle or a mosque in Nigeria, said one senior U.S. counterterrorism official with knowledge of the initiative.
"Regardless of where any bad guy is caught, we want the bureau to be in a position to put charges on them," said the official.
Upon taking office in January, Obama shut down the CIA's secret "black site" prisons and forbade the use of coercive, or "enhanced," interrogation techniques.
That opened the door for a more robust role for the FBI, which for the past year has ramped up deployment of agents and analysts overseas to work alongside the CIA, the military and foreign governments. The new initiative would amount to a far broader incorporation of the FBI and Justice Department into global counterterrorism operations.
Local journalism is essential.
Give directly to The Spokesman-Review's Northwest Passages community forums series -- which helps to offset the costs of several reporter and editor positions at the newspaper -- by using the easy options below. Gifts processed in this system are not tax deductible, but are predominately used to help meet the local financial requirements needed to receive national matching-grant funds.
Subscribe to the Coronavirus newsletter
Get the day's latest Coronavirus news delivered to your inbox by subscribing to our newsletter.
---
Subscribe and log in to the Spokesman-Review to read and comment on this story