News > Nation/World
Search heats up for new homes for 'Slumdog' kids
Sun., May 24, 2009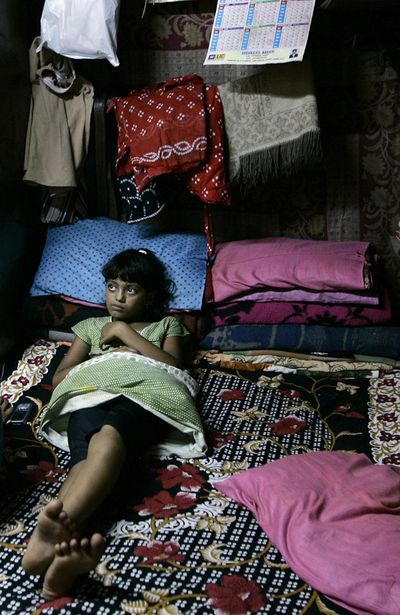 MUMBAI, India – The search for new homes for two impoverished child stars from the hit movie "Slumdog Millionaire" has intensified, as one child fell sick days after city authorities demolished the shanty where she lived, family members said.
Nine-year-old Rubina Ali came down with a fever Friday and spent a few hours in a local hospital, they said.
"I'm fine now, but I feel tired," Rubina said Saturday as she lay in bed, resting at her uncle's house.
Rubina's block was razed Wednesday to make way for a planned pedestrian overpass at a commuter train station in Mumbai. Last week, co-star Azharuddin Mohammed Ismail's home was demolished, part of a pre-monsoon slum clearance drive.
Rubina and her parents have been staying with relatives. Azhar, 10, and his family have tied tarpaulins and blankets around a thin wood frame for shelter in the Garib Nagar – "city of the poor" – slum where both families live.
After the runaway success of their film, "Slumdog" director Danny Boyle and producer Christian Colson set up the Jai Ho trust to ensure the children receive proper homes, a decent education and a nest egg when they finish high school. They have also donated $747,500 to a charity to help slum children in Mumbai.
The filmmakers have agreed to raise the amount of money they will spend on new apartments for each family from $30,000 to $50,000, a Jai Ho trustee and Rubina's father, Rafiq Qureshi, both told the Associated Press on Saturday.
In addition, the filmmakers have agreed to give each family a stipend of $130 a month and a lump sum of $3,000 a year to support the children while they are in school, the trustee and Qureshi said.
The state's top politician, Chief Minister Ashok Chavan, told the Mumbai Mirror that he would expedite the process now that national elections are over.
"The elections delayed the process, but very soon we will allot them flats," he was quoted as saying.
Local journalism is essential.
Give directly to The Spokesman-Review's Northwest Passages community forums series -- which helps to offset the costs of several reporter and editor positions at the newspaper -- by using the easy options below. Gifts processed in this system are not tax deductible, but are predominately used to help meet the local financial requirements needed to receive national matching-grant funds.
Subscribe to the Coronavirus newsletter
Get the day's latest Coronavirus news delivered to your inbox by subscribing to our newsletter.
---
Subscribe and log in to the Spokesman-Review to read and comment on this story