Sports
Canseco back in box
Mon., May 25, 2009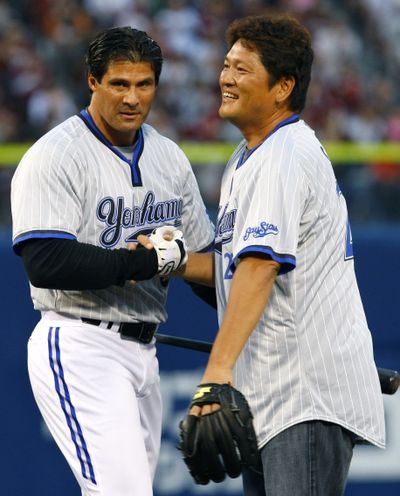 Jose Canseco was back in the batter's box Sunday, facing former Seattle Mariners closer Kazuhiro Sasaki before the start of a Japanese professional baseball game in Yokohama.
Canseco took nine pitches from Sasaki as part of a pre-game ceremony at Yokohama Stadium. Canseco connected on a few pitches but none were home runs.
"His fastball and forkball haven't changed much since he was in the major leagues," Canseco said. "I should have practiced more."
Canseco, who hit 462 home runs in the major leagues, is in Japan to take part in a mixed martial arts event Tuesday. The former Oakland A's slugger is fighting South Korean Hong Man Choi on the Dream 9 card at Yokohama Arena.
Choi is a 7-foot-2, 330-pound super heavyweight and has a 1-2 record in MMA.
Canseco, who named alleged steroid abusers like himself in his two books, lost to former Philadelphia Eagle Vai Sikahema in his first foray into celebrity boxing.
He boxed Danny Bonaduce, a former "Partridge Family" child star, to a draw in a match in January.
Leyritz: Not my fault
Former major leaguer Jim Leyritz says he has sold off memorabilia because he's broke, halted charity work because he's become a social pariah and scattered case files throughout his house, intent on defeating a DUI manslaughter charge.
All of this, the one-time New York Yankee says, for a woman's death he never could have prevented.
"There was no possibility of me avoiding that crash with all of my senses," Leyritz told the Miami Herald in a report published Sunday. "A mother was taken away from her kids. I can't change that. But I didn't do it. The accident did. And that accident wasn't my fault."
Prosecutors say he's wrong, though he'll have a chance to plead his case Sept. 14 when he's scheduled to face trial in connection with a fatal December 2007 crash. Police say Leyritz was drunk when he ran a red light in his SUV and caused the accident that killed 30-year-old Fredia Ann Veitch in Fort Lauderdale. Authorities say Veitch also was drunk.
Clearing the bases
The St. Louis Cardinals activated Rick Ankiel from the 15-day disabled list, reversing course from a day earlier because the outfielder had a strong workout. … David Price, who helped Tampa Bay reach the World Series last year, will be promoted from Triple-A Durham to start for the Rays at Cleveland today. Price replaces Scott Kazmir, who went on the disabled list Friday with a quadriceps strain. … Rays second baseman Akinori Iwamura injured his knee while trying to turn a double play in the eighth inning of Sunday's game against Florida and was carted off the field. He will undergo an MRI today.
Local journalism is essential.
Give directly to The Spokesman-Review's Northwest Passages community forums series -- which helps to offset the costs of several reporter and editor positions at the newspaper -- by using the easy options below. Gifts processed in this system are not tax deductible, but are predominately used to help meet the local financial requirements needed to receive national matching-grant funds.
Subscribe to the sports newsletter
Get the day's top sports headlines and breaking news delivered to your inbox by subscribing here.
---