Sports
Magic get rough win over Cavs
Mon., May 25, 2009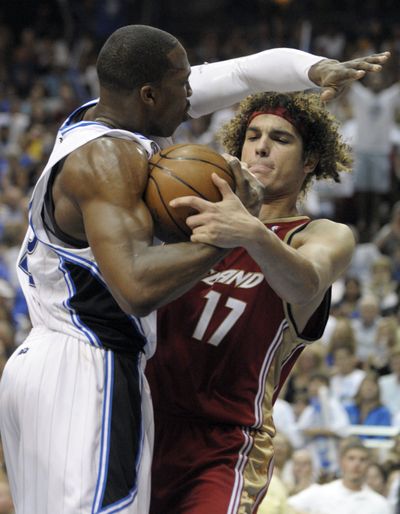 ORLANDO, Fla. – From an unforgettable shot to a cheap one.
Three games in, the Eastern Conference finals have grown a little nasty.
Dwight Howard scored 24 points – 14 on free throws – and Rafer Alston added 18 as the Orlando Magic, sick of seeing replays of LeBron James' dramatic buzzer-beater to win Game 2, downed the Cleveland Cavaliers 99-89 on Sunday night to take a 2-1 lead in the series.
A physical game from start to finish, there were 86 free throws attempted, 58 personal fouls called, two technicals, and a flagrant. The officials spent half the night stepping between players on both sides as tempers flared inside an overheated Amway Arena.
In the first half, Mo Williams had his left eye split open by Orlando's Anthony Johnson, who nailed Cleveland's point guard with an elbow.
Williams, who needed four stitches to close two cuts, and James felt the blow was a cheap shot.
"I think it was," James said. "You see Mo's face, it's not a pretty sight. That's not called for in this game."
James scored 41 on just 11-of-28 shooting and missed five free throws in the fourth quarter. And once again, Cleveland's superstar didn't get enough help from his teammates. Williams, Delonte West and Zydrunas Ilgauskas shot a combined 13 of 37.
Game 4 is Tuesday night.
The first two games of the series in Cleveland were each decided by one point. This one was resolved by elbows, shoves and hard fouls.
Howard, Ilgauskas and Cleveland's Anderson Varejao all fouled out. Afterward, Williams said the Cavaliers were giving the underdog Magic too much respect.
"We just need to man up," James said. "Orlando is a very, very good team."
Unlike Games 1 and 2, the Magic got out fast, stayed close despite Howard's early foul trouble and put the Cavs away at the line.
Howard, a notoriously poor foul shooter, went 14 of 19 from the line and the Magic made 39 of 51 attempts. In the fourth quarter alone, Orlando made 19 of 23 to hold off the top-seeded Cavaliers.
Cleveland better figure out a way to win in steamy Florida fast. The Cavs, who were thumped here by 29 on April 3, have lost six of their past seven in Orlando.
Despite his lack of help, James kept Cleveland within striking distance in the fourth and scored on a three-point play while getting Howard's fifth foul with 2:34 to play to pull the Cavs to 90-86.
Howard, wrapped up underneath, then made two free throws before James was fouled and rimmed out two at the other end. On Orlando's next trip, Mickael Pietrus, who came off the bench to score 16, grabbed a long rebound, got fouled and was pushed in the back by West, who was handed a T.
Pietrus made his free throws to make it 94-86 and the Magic appeared to have things under control when Howard caught James from behind and blocked his 3-pointer. The refs saw it otherwise and called a three-shot foul on Superman, who couldn't believe it.
James made all three shots, but the Cavs were short on time. Rashard Lewis and Hedo Turkoglu made free throws. Turkoglu was just 1 of 11 from the floor but made 11 free throws and added 10 rebounds and seven assists.
Local journalism is essential.
Give directly to The Spokesman-Review's Northwest Passages community forums series -- which helps to offset the costs of several reporter and editor positions at the newspaper -- by using the easy options below. Gifts processed in this system are not tax deductible, but are predominately used to help meet the local financial requirements needed to receive national matching-grant funds.
Subscribe to the sports newsletter
Get the day's top sports headlines and breaking news delivered to your inbox by subscribing here.
---
Subscribe and log in to the Spokesman-Review to read and comment on this story