News > Spokane
Make a great escape
Inexpensive vacations await outside your door
Mon., May 25, 2009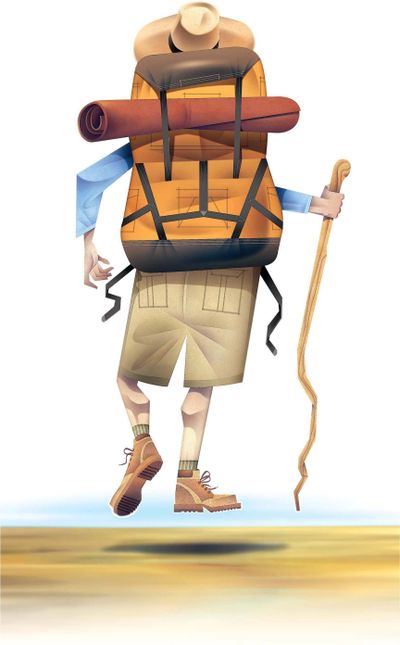 So, here it is – the recession's second summer. Last year, all the talk about vacations centered around the "staycation," and families will no doubt be looking for ways to cut back on their travel dollars this summer as well.
The good news: Gas prices, while inching upward, are nowhere near as high as they were last year; airfares are expected to drop; hotels and destinations are discounting prices; and you – the resident of the Inland Northwest – just happen to live in the middle of a region that is full of recreational possibilities.
And it seems that more Americans are planning to travel this year. One poll showed that 78 percent of people planned to fly as much or more this year than last, and more than half of those polled said they were waiting until the last minute to book travel, hoping for the best possible deals.
The average family spends about $1,600 a year on vacation, according to Money magazine, though it would be easy to spend more or less, depending on what you do. A week of camping and cookouts could run a few hundred dollars for a family of four, while a full-blown airfare-and-hotels trip for four could cost thousands. Will you eat in restaurants or prepare your food? Enjoy the outdoors or pay a lot of admission fees at museums and attractions? Rent a car or take public transportation?
Every choice adds to – or subtracts from – the bottom line. Here are four vacation alternatives to consider when you're planning your summer.
Camping. If you have the gear, or can borrow it, this is probably as inexpensive as it gets – and camping is great family fun. Campgrounds across Washington and Idaho charge between $17 and $22 a night for spots in developed campgrounds. Both states also offer yurts and cabins in select locations. Prices range from $45 to $65 for those options, and they tend to get reserved well in advance. For more information about Washington camping, go to www.parks.wa.gov/reservations/. For information about Idaho, go to http://parksandrecreation.idaho.gov/. Of course, there are also the national parks. Olympic, Glacier and Yellowstone national parks are within a day's drive.
The car trip. Last year, as gas prices hovered at record levels, driving the family down, say, the Oregon Coast was a much more expensive proposition than it is this year. But even though prices have been rising this spring, the average gallon of regular in Spokane on Sunday was $2.56 – well below last summer's peak of $4.19. Most observers aren't expecting a return to such highs this year, so you might consider hitting the road and stringing stops between destinations. You can look for deals on hotels – Live Search Farecast, a travel Web site, says hotel costs nationwide will be down 14 percent this year. Or you could combine the car trip and the camping trip. To return to the example of the Oregon Coast, you could string together stops in the campgrounds up and down the coast.
Go carefully abroad. This is a more expensive option, of course, even with cheaper airfare. But overseas airfares are dropping: Live Search Farecast predicts a 19 percent drop in airfares to European destinations this summer. And if you do go overseas, you can always choose to skip the more expensive destinations like Paris or London and try somewhere like … Albania? Here's what AOL.com's roundup of cheap travel destinations has to say about the country in southern Europe: "In the southern city of Gjirokaster you can stay under a 200-year-old carved-wood ceiling for just $40 in the Hotel Kalemi. Journey to the 2,500-year-old must-see city of Butrint, where you'll be able to tread cobbled streets and explore a Venetian fort-turned-museum by day, and party the night away with cheap beer by night. Enjoy a three-course meal in one of the finest restaurants in the capital, Tirana, for under $15."
You can't eat a three-course meal at the finest restaurant in Colfax for under $15.
Volunteer. A variety of vacation options are built around charitable service, such as trail-building in American wilderness areas and working in orphanages in Guatemala or Russia. Not all such volunteer vacations are necessarily cheap, because you'll have to cover the cost of travel and living expenses. But many options are less expensive than a full-blown airfare-and-hotel trip, and you'll spend much less on daily expenses, entrance fees and the like, since you'll be occupied with helping others. To see a range of family volunteer vacations, go to thevolunteerfamily.org/Volunteers/ How/Vacations.aspx.
Local journalism is essential.
Give directly to The Spokesman-Review's Northwest Passages community forums series -- which helps to offset the costs of several reporter and editor positions at the newspaper -- by using the easy options below. Gifts processed in this system are not tax deductible, but are predominately used to help meet the local financial requirements needed to receive national matching-grant funds.
Subscribe to the Coronavirus newsletter
Get the day's latest Coronavirus news delivered to your inbox by subscribing to our newsletter.
---
Subscribe and log in to the Spokesman-Review to read and comment on this story