News > Nation/World
Pakistan army secures 'bloody intersection'
Taliban often left bodies at crossing
Mon., May 25, 2009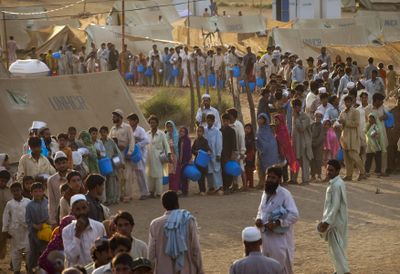 ISLAMABAD, Pakistan – The Taliban left so many mutilated bodies at the crossing – some hanging from trees with threatening notes – that Pakistanis in the Swat Valley's main town took to calling it "bloody intersection."
On Sunday, the army said that spot and seven other major crossings in Mingora, the valley's main commercial hub, were secured in street-by-street urban fighting whose success is considered critical to flushing out the militants from the valley.
The advances in Swat came as helicopter gunships pounded alleged militant hide-outs in a nearby tribal region, killing at least 18 people, while police announced the arrest of a militant commander and six other Taliban fighters elsewhere in the northwest.
The events underscored how widespread and entrenched militant activity is along Pakistan's rugged region bordering Afghanistan, and how pushing the Taliban out of Swat is unlikely to defuse the overall insurgency beleaguering the nuclear-armed nation.
The retaking of Green Chowk could have serious symbolic value.
Residents nicknamed it "khooni chowk" or "bloody intersection" because the militants would leave their victims' bodies there – some decapitated, some killed in other brutal fashions. The dead often were left hanging from trees. Some had notes attached that accused the victims of spying and told residents not to move the bodies until specified times.
It was just one fear tactic used by Taliban fighters to exert control over the population of Mingora, which when not under army siege normally has at least 375,000 residents.
Some 10,000 to 20,000 residents are still stranded in the town, according to the army.
One trapped civilian told the Associated Press via phone Saturday night that gunshots were ringing through the air, first continuously then at intervals. He said he had tried to flee the city twice but failed because of the fighting and lack of transportation.
"I will try to leave again whenever I get another chance," said Fazal Wadood, a local leader of the opposition Pakistan Muslim League-N party. "It is like inviting death to stay here anymore."
Officials have downplayed reports that the army would soon expand the offensive to the lawless, semiautonomous tribal regions bordering Afghanistan. However, violence has continued to flare in those areas.
Also Sunday, police in nearby Charsadda district said they caught seven Taliban militants during a raid on a religious school. They included Qari Ihsanullah, a Taliban commander suspected in attacks in Pakistan and Afghanistan, Charsadda police Chief Riaz Khan said.
"We recovered three suicide jackets, explosives and assault rifles," he said of the Saturday night raid.
Local journalism is essential.
Give directly to The Spokesman-Review's Northwest Passages community forums series -- which helps to offset the costs of several reporter and editor positions at the newspaper -- by using the easy options below. Gifts processed in this system are not tax deductible, but are predominately used to help meet the local financial requirements needed to receive national matching-grant funds.
Subscribe to the Coronavirus newsletter
Get the day's latest Coronavirus news delivered to your inbox by subscribing to our newsletter.
---
Subscribe and log in to the Spokesman-Review to read and comment on this story