News > Features
When you're hot, you're red hot
Mon., May 25, 2009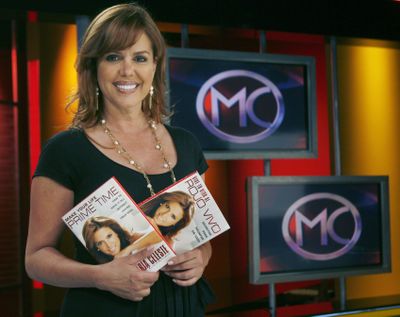 Telemundo host Maria Celeste Arraras sinks into a red armchair, sleek in a black wrap dress and black leather sandals with 4-inch heels.
"These things are killing me," she says before unbuckling the shoes, massaging her toes and tucking her feet into the seat.
There is something refreshingly unguarded about Arraras, 48, whose jam-packed gossip, news and entertainment show, "Al Rojo Vivo con Maria Celeste" – loosely translated to "Red Hot Live with Maria Celeste" – is among the most popular on Spanish-language television.
(It airs locally on weekdays at 2 p.m. on Comcast cable channel 76 in Spokane.)
The same can be said of the Puerto Rican native's new book, "Make Your Life Prime Time: How to Have It All Without Losing Your Soul," released in Spanish and English.
It is Arraras' third book, following a best-selling children's book and the story behind the death of Tex-Mex singer Selena.
Given her high-profile and often salacious interviews, the memoir could have been an exercise in celebrity name-dropping.
Instead, Arraras writes openly about her two failed marriages, the assistant who stole her identity, adopting a son from Russia and the boss who tried to thwart her.
Along the way she offers a backstage view of the television industry and some snappy, if cliche, life lessons.
Arraras said she didn't hesitate to write a personal story.
"The people they know you, and they follow your life as if it were a soap opera, chapter by chapter," she explains.
She tried to use the personal to provide teaching moments she hopes will one day help her children and the public at large.
"And if you're not into self-help, at least it's going to be entertaining," she adds.
Arraras is the rare Spanish-language television star who has crossed the language divide, most notably as a guest host for "The Today Show" on sister network NBC.
She doesn't hesitate to offer some advice for the English-language news business, especially in this economic downturn: Do more with less.
"When I work at NBC, what happens is I feel like a queen. I have so many people available to help," she says.
"It's almost a vacation because I'm used to the Hispanic market where we have fewer resources, and we have to do everything."
Quoteworthy
Jason Earles ("Hannah Montana"), on how his popularity has grown with young female fans: "When the show first came out it was, 'Hey, that is the guy from "Hannah Montana." Then six months later it was, 'That is Jackson.' Six months later it was, 'That is Jason Earles.' Six months later it was, 'You have two cats and you like to play baseball.' "
The birthday bunch
Songwriter Hal David is 88. Country singer Tom T. Hall is 73. Actor Ian McKellen is 70. Actress Dixie Carter is 70. Country singer Jessi Colter is 66. Actress-singer Leslie Uggams is 66. Director-Muppetteer Frank Oz is 65. Actress Karen Valentine is 62. Actress Connie Sellecca is 54. Actor-comedian Mike Myers is 46. Actress Anne Heche is 40. Actresses Sidney and Lindsay Greenbush ("Little House on the Prairie") are 39. Actor Jamie Kennedy is 39. Singer Lauryn Hill is 34. Actor Ethan Suplee ("My Name Is Earl") is 33.
Local journalism is essential.
Give directly to The Spokesman-Review's Northwest Passages community forums series -- which helps to offset the costs of several reporter and editor positions at the newspaper -- by using the easy options below. Gifts processed in this system are not tax deductible, but are predominately used to help meet the local financial requirements needed to receive national matching-grant funds.
Subscribe to the Coronavirus newsletter
Get the day's latest Coronavirus news delivered to your inbox by subscribing to our newsletter.
---
Subscribe and log in to the Spokesman-Review to read and comment on this story