Sports
In brief: Without stars, Red Wings rout Blackhawks
Mon., May 25, 2009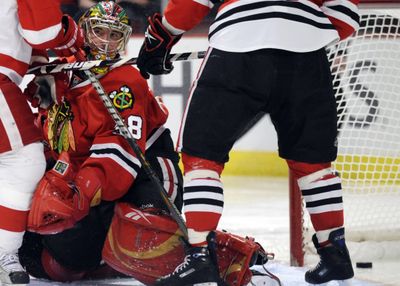 Marian Hossa and Henrik Zetterberg scored two goals each Sunday, and the Detroit Red Wings overcame the absences of Nicklas Lidstrom and Pavel Datsyuk to rout the Blackhawks 6-1 in Chicago and take a 3-1 lead in the Western Conference finals.
The defending Stanley Cup champions can clinch a return trip to the finals with a victory Wednesday at home.
The Red Wings played without six-time Norris Trophy winner Lidstrom, who was scratched due to a lower body injury. MVP finalist Datsyuk missed his second straight game with a sore foot.
Johan Franzen and Valtteri Filppula also scored for Detroit, and Chris Osgood made 18 saves in two periods. The Red Wings had three power-play goals and one short-handed tally.
Chicago goalie Cristobal Huet, making his first start of these playoffs in place of injured Nikolai Khabibulin, gave up four goals and was pulled in the second. Rookie Corey Crawford took over for the last 15:55 of the period, but Huet returned in the third and gave up Zetterberg's second power-play goal that made it 6-1.
Jonathan Toews had Chicago's lone goal on a power play in the second period.
French Open
Hewitt wins despite onslaught of aces
Lleyton Hewitt lunged and whiffed at some serves, his racket hitting only air. He simply stood and watched other balls whirr past.
Over and over again, Hewitt's opponent in the French Open's first round – the 6-foot-10 Ivo Karlovic, the tallest player in tour history – smacked aces from on high, finishing with a tournament-record 55. Those easy points helped Karlovic take the first two sets.
As the 26th-seeded Karlovic tired in heat that topped 80 degrees, Hewitt grew more and more comfortable, and the two-time major champion's bothersome hip looked fine while he climbed all the way back for a 6-7 (1), 6-7 (4), 7-6 (4), 6-4, 6-3 victory.
By the end of the third set, Karlovic already had 41 aces, enough to top the previous French Open record of 37, set by Andy Roddick in 2001.
The final tally of 55 is the most in a tour-level match since the ATP began keeping ace records in 1991, bettering the mark of 51 shared by Karlovic and Joachim Johansson.
Otherwise on Day 1, there were straight-set wins for defending champion Ana Ivanovic, Andy Murray and Marat Safin and straight-set exits for 2004 champion Gaston Gaudio and two-time major winner Amelie Mauresmo.
No. 16 Mauresmo and No. 19 Kaia Kanepi were the seeded women who lost, while Karlovic was the only seeded man who departed. No. 9 Victoria Azarenka and No. 11 Nadia Petrova won, as did No. 7 Gilles Simon, No. 8 Fernando Verdasco, No. 13 Marin Cilic and No. 14 David Ferrer.
Lacrosse
Northwestern women win fifth straight title
Northwestern won its fifth straight NCAA championship in women's Division I lacrosse with a 21-7 victory over North Carolina in Towson, Md.
Northwestern (23-0) has won 20 consecutive tournament games, one shy of the record set by Maryland from 1995 to 2002.
•Post men win D-II title: C.W. Post held off a furious rally to beat Lemoyne 8-7 for the NCAA men's Division II lacrosse championship in Foxborough, Mass.
•Cortland State men win D-III crown: Cortland State held Gettysburg scoreless for 38 minutes and Brandon Misiaszek scored a career-high five goals to give the Red Dragons a 9-7 victory in the NCAA men's Division III lacrosse championship in Foxborough, Mass.
Miscellany
Cowboys' consultant claimed EWU degree
The Dallas Cowboys used advice from a man who falsified his educational credentials and served federal prison time for drug trafficking to make major structural reinforcements to the practice facility that collapsed May 2.
A Dallas Morning News investigation showed that the consultant, Jeffrey Lawrence Galland, was engineering director of a Las Vegas company called JCI even though he had no engineering license. Galland acknowledged the newspaper's findings, but said his background had no bearing on his ability to help clients.
The collapse left one Cowboys employee with a broken neck and another with permanent paralysis.
Galland provided a written summary of his credentials that says he has a bachelor's degree in physics from Eastern Washington University. The school said he pursued that degree but never graduated.
The summary also says he has been working toward a master's degree in structural engineering at the University of Nevada, Las Vegas. School records show no sign he ever attended, officials said.
Galland said Saturday that he completed all required credits for the physics degree but did not receive it after Eastern Washington officials wanted him to take a class that "I felt was unnecessary."
•Jockey recovering from spill: Jockey Rene Douglas was in fair condition a day after being thrown from his horse during a race at Arlington Park in suburban Chicago.
Douglas was aboard Born to Be on Saturday when the horse clipped heels with another horse and fell at the top of the stretch. Born to Be flipped and tossed Douglas over her head and she then landed on top of the rider.
•Cavs, Chinese group ink deal: The Cleveland Cavaliers have a signed an agreement with an investment group from China to become minority owners of the NBA franchise and its arena.
The Asian conglomerate could acquire up to 15 percent of Cavaliers Operating Company, the entity that owns the team and operates Quicken Loans Arena. The deal must be approved by the league.
Local journalism is essential.
Give directly to The Spokesman-Review's Northwest Passages community forums series -- which helps to offset the costs of several reporter and editor positions at the newspaper -- by using the easy options below. Gifts processed in this system are not tax deductible, but are predominately used to help meet the local financial requirements needed to receive national matching-grant funds.
Subscribe to the sports newsletter
Get the day's top sports headlines and breaking news delivered to your inbox by subscribing here.
---
Subscribe and log in to the Spokesman-Review to read and comment on this story