Sports
Baseball notebook: Not your average Joe
Tue., May 26, 2009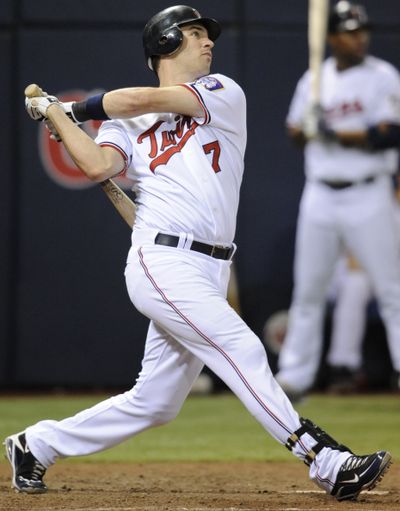 The temptation to leave Joe Mauer in the lineup every day has never been greater for Minnesota manager Ron Gardenhire, with the reigning A.L. batting champion getting a hit nearly every other at-bat and averaging a home run every eight at-bats.
But overusing the two-time All-Star catcher is not a risk worth taking for the Twins. He was supposed to have a full day off Monday but still found his way into the lineup as a pinch-hitter and homered against Boston Red Sox closer Jonathan Papelbon in the ninth inning.
It wasn't enough as the Twins lost 6-5.
Mauer hadn't been off in two weeks, and Monday appeared to be a good day to rest him following a night game on Sunday.
Mauer has ignited the Minnesota lineup with uncharacteristic power – 11 home runs in just 81 at-bats this month – plus his usual prowess at working the count and finding his way to first base.
But for a guy who's had trouble keeping his lower body healthy while playing such a dangerous, grinding position, well, there comes a time when he has to come out – no matter how well he's swinging.
"It's really, really hard to sit him down, but you have to," Gardenhire said. "You just can't take a chance and wear him out."
Angels activate Vlad
The Los Angeles Angels activated slugger Vladimir Guerrero from the disabled list and optioned outfielder Reggie Willits to Triple-A Salt Lake.
Guerrero, who possesses one of the strongest throwing arms in the game, has yet to play right field this season because of a torn pectoral muscle on the right side of his chest. He first felt discomfort after making a throw during an exhibition game April 2 at Dodger Stadium.
Clearing the bases
Tampa Bay Rays second baseman Akinori Iwamura will miss the rest of the season with a torn ligament in his left knee suffered on Sunday. …Manager Joe Maddon has agreed to a three-year contract extension with Tampa Bay that runs through 2012. … Cleveland Indians right-hander Anthony Reyes may need season-ending surgery on his right elbow. An MRI on Reyes' elbow by team physician Dr. Mark Schickendantz revealed an inflamed ulnar nerve.
Local journalism is essential.
Give directly to The Spokesman-Review's Northwest Passages community forums series -- which helps to offset the costs of several reporter and editor positions at the newspaper -- by using the easy options below. Gifts processed in this system are not tax deductible, but are predominately used to help meet the local financial requirements needed to receive national matching-grant funds.
Subscribe to the sports newsletter
Get the day's top sports headlines and breaking news delivered to your inbox by subscribing here.
---
Subscribe and log in to the Spokesman-Review to read and comment on this story