Sports > Gonzaga athletics
Friday men, Way and Fields, provide instant lift
Fri., May 29, 2009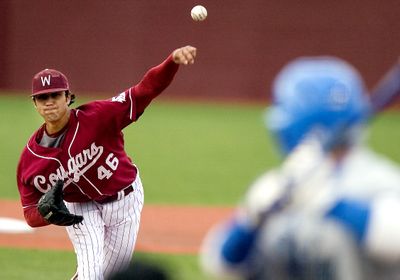 They are talented, tough-minded and, in most cases, battle-tested. They arrive each workday knowing their challenge is monstrous and their margin for error minuscule.
They are the "Friday Night Guys" of college baseball, the pitchers who climb the mound – usually on Friday nights – for the tone-setting opening game of every crucial weekend series. And if you don't have a good one, you've probably already put the bats and balls away until next spring.
Among the fortunate few teams who have discovered and developed quality Friday Night Guys are Washington State and Gonzaga. They've managed to ride them all the way to the NCAA Division I Regionals that start today at 16 double-elimination sites across the country.
WSU (31-23), which finished alone in second place in the Pacific-10 Conference, opens play against Arkansas (34-22) at 11 a.m. in Norman, Okla. West Coast Conference champion GU (35-16) takes on Georgia Southern (42-15) at 3 p.m. in Fullerton, Calif. Both teams go in seeded lower than their opponents, but like their chances because of the Friday Night Guys they will send to the mound.
"Those guys set the tone for the entire weekend," said Washington State coach Donnie Marbut, who will start fifth-year senior Matt Way against the Razorbacks.
"It's huge," Gonzaga coach Mark Machtolf added about the importance of having a quality starter like fifth-year senior Matt Fields to open any big series. "We have Matt Fields, who was the pitcher of the year in our league and went head to head against everybody else's best pitcher every Friday and never lost.
"You just can't overstate the kind of impact that has on the rest of the weekend."
Fields, a 6-foot-3, 190-pound right-hander from Everett, will take an 8-1 record and a 2.86 earned-run average into this afternoon's regional opener against Georgia Southern. During the WCC season, he started the first game of every series and the Bulldogs won all seven, with Fields getting credit for five of those wins.
Way, a 6-2, 182-pound lefty from Sitka, Alaska, with an 8-4 record and 2.49 ERA, was effective in the Pac-10, starting all nine league series and finishing 6-2, with his losses coming against then No. 1-ranked Arizona State and USC, in a game in which he allowed only one earned run.
"In the past, we haven't had a great chance to win on Friday night, so a lot of times we were down a game right away and needing to win back-to-back games on Saturday and Sunday to win a series," Marbut said. "I'm not saying you can't do that, but it's a lot easier now with Matty out there, because he gives us a good chance to win every Friday.
"And he's saving our bullpen, as well."
Fields and Way have both been notorious innings eaters, usually pitching into the seventh and beyond – often with little in the way of offensive support.
But that's what Friday Night Guys learn to expect when they're matched against the ace of their opponents' staff.
"It's more exciting in pressure situations like that," said Fields, who has struck out 73 and allowed just 28 earned runs in 11 innings. "I've been doing it the whole year, and I like being in a position to get our team off on the right foot."
Way, who has struck out 114 and allowed only 28 earned runs in 1011/3 innings, is also in his second season as the Cougars' ace.
"We've been throwing the same guy on Friday nights for a year and half now," Marbut said. "You've got to have great stuff to do it, but you've also have to be tough and smart. That all goes into it, and I think we've got one the best guys around in Matty."
Competitiveness, confidence and cool also factor into the ideal makeup of a Friday Night Guy.
"You need to be ultracompetitive, of course," Machtolf said. "But equally important is composure, because in college baseball – with those aluminum bats – it's an offensive game and there's always a lot of stuff going on, and that's where composure comes in.
"It's especially important on Fridays that you have someone who can practice damage control and keep that one (run) from becoming two or three. That's composure, and that's why not many young guys can do it."
There is that rare exception, such as UCLA freshman Gerrit Cole, a first-round major league draft pick, who turned down a $3 million-plus offer from the New York Yankees to be a Friday Night Guy for the Bruins. But even Cole struggled as a rookie, posting a disappointing 4-8 record and 3.49 ERA.
That would seem to support the opinions of Machtolf and Marbut that Friday Night Guys are more often made than born.
"If a guy has some talent, you can make him into one," Machtolf said. "But if he doesn't have that competitiveness and composure, all the developing in the world is not going to help him."
"If you're going to do it on Friday nights and you're a young, young kid, your stuff just has to be unhittable," Marbut said. "I know when Matty showed up from Alaska as a freshman, he wasn't ready. But because of his ability and the hard work he put in – and because of what (pitching coach) Gregg Swenson does with our staff – he developed into a Friday Night Guy."
Swenson weighed in on the matter, noting Way might have been the only person in the WSU program who thought he was ready for Fridays when he first arrived.
"Matt Way didn't just show up here and all of sudden become our Friday Night Guy," Swenson said. "But I do believe Matt thought he was our No. 1 guy from Day One and probably felt we were making a mistake by not pitching him on Friday when he was a freshman.
"But that's the kind of confidence you want. I ask our guys all the time, 'If you don't believe in yourself, how can we believe in you?' And I can tell you Matt has never had a personal belief issue. He's always believed he was the best guy on our staff, and he started backing that belief up last year – which has been fun to watch."
For players as well, it would seem.
"Having a quality Friday starter makes everybody relax a little bit," Machtolf said. "Defensively, you know that if you make an error, he'll probably pick you up. And offensively, it allows you to relax at crucial times, because you're facing everybody else's top guy and you don't need to start worrying about having to score 10 runs off them.
"When you do that, it's hard to be productive."
Marbut claims teammates learn early on whether to trust their Friday Night Guy.
"And if they do, they become aware that all they have to do is play good behind him," he said. "They realize, 'If we play good we win, because we've got our guy on the mound.'
"And with Matt Way, our guys feel really confident because they've know they've got a special Friday Night Guy going."
Local journalism is essential.
Give directly to The Spokesman-Review's Northwest Passages community forums series -- which helps to offset the costs of several reporter and editor positions at the newspaper -- by using the easy options below. Gifts processed in this system are not tax deductible, but are predominately used to help meet the local financial requirements needed to receive national matching-grant funds.
Subscribe to the sports newsletter
Get the day's top sports headlines and breaking news delivered to your inbox by subscribing here.
---