News > Features
Containers offer gardening for all
Sun., May 31, 2009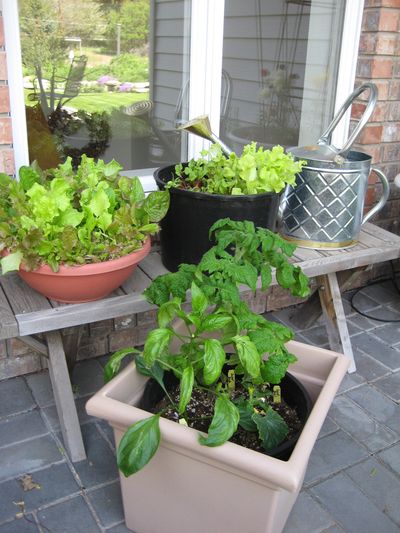 If you live in an apartment or condominium, or on a small lot with no room for a vegetable garden, you can still grow your own food.
The advantages of growing vegetables in containers are many. Containers require less maintenance, so you can keep up with your gardening chores. It's less physically demanding because the containers are easier to reach.
If you don't have much sunshine on your balcony or patio, you can put casters under your pots and move them to follow the sunshine. And perhaps best of all, weeds are rarely a problem in containers.
The only disadvantage is that you need to be vigilant about watering your containers since they will dry out more quickly than a conventional garden. Your growing space is limited only by the size and number of your pots.
Master Gardener Janice Thorson has many helpful tips for successful container gardening.
"To begin with, pick plants that are appropriate for the pot," she advises. "Plants will be happier if they have enough room to grow."
Choosing just the right pot can be challenging. Clay pots may be attractive but they are heavy, fragile and tend to dry out more quickly because of their porous surface. Wooden pots can also be heavy and prone to rotting. Garden centers carry many attractive plastic pots that are lightweight and relatively inexpensive.
No matter what type appeals to you, try to choose the largest pot you can manage and make sure it has good drainage.
In recent years, self-watering pots with water reservoirs beneath the planting compartment have become available. Once the reservoir has been filled, the plant's roots will take up water as needed, thus reducing your watering duties. The water level should be closely monitored during hot weather.
When planting your pot, avoid using garden soil because it will compact and have poor drainage.
"For best results, mix together four parts potting soil to one part organic compost to give the plants some food," Thorson suggests.
She also notes that the roots of sun-loving plants can bake in their containers, so she likes to double-pot them. The liner pot goes inside a decorative pot and rests on a brick to ensure good drainage.
As the plants grow, Thorson emphasizes, it's important to provide them with even moisture.
"That doesn't necessarily mean they have to be watered every day, though," she says. "Put your finger into the soil up to the first knuckle. If it's wet to that depth, the soil is moist enough."
During the first part of the growing season, Thorson suggests feeding the plants with a foliar spray of fish fertilizer or seaweed extract. Be sure to follow the label directions as plants can be burned very easily.
Thorson's favorite container vegetables include "Tumbling Tom" patio tomatoes and "Spacemaster" cucumbers.
"Peppers are very attractive and easy to grow in pots," she says. "Spinach and lettuce are very user-friendly vegetables to grow during the cool season, especially if you don't have much sunlight in your yard or on your balcony."
To maximize your growing space, think about growing veggies vertically. Cucumbers, melons and pole beans can grow up a trellis and the popular "Topsy-Turvy" tomato planter is hung from a hook and grows tomatoes upside down.
Local journalism is essential.
Give directly to The Spokesman-Review's Northwest Passages community forums series -- which helps to offset the costs of several reporter and editor positions at the newspaper -- by using the easy options below. Gifts processed in this system are not tax deductible, but are predominately used to help meet the local financial requirements needed to receive national matching-grant funds.
Subscribe to the Coronavirus newsletter
Get the day's latest Coronavirus news delivered to your inbox by subscribing to our newsletter.
---