News > Features
David Sedaris speaking at Auntie's a hot ticket
Sun., May 31, 2009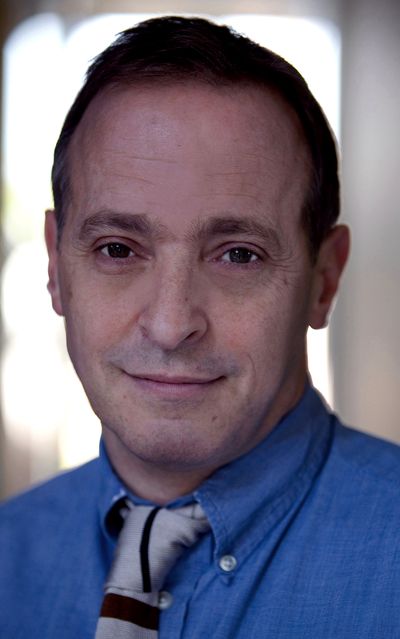 If you want to see David Sedaris at Auntie's Bookstore on June 13, you need to plan ahead.
Admission is by ticket only, and there's only one way to get a ticket: Go to Auntie's and buy a paperback copy of his latest book, "When You Are Engulfed in Flames," which will set you back $17.38 including tax. The nice people at the counter will issue you a ticket when you make the purchase.
The book's on-sale date is Tuesday, but you can pre-order up until then.
Auntie's has already sold a bunch of tickets for the 2 p.m. appearance, although there are still some seats left. After the seats are sold out, Auntie's will sell a number of standing-room-only tickets.
To order or buy the book, head down to Auntie's, 402 W. Main Ave., or call (509) 838-0206.
The Olmsted legacy
The vast influence of landscape architect John Charles Olmsted in Spokane – as well as in Seattle, Portland, Moscow, Idaho, and Hayden Lake – has been beautifully chronicled in "Greenscapes: Olmsted's Pacific Northwest," by Joan Hockaday (Washington State University Press, $29.95).
The book is loaded with photos of Olmsted parks – Cannon Hill Park and Liberty Park, to name just two – as well as his original architectural plans. There's also detailed research about Olmsted's forays into the Northwest in the early 1900s as well as insights about his work and his life.
Olmsted, the stepson of Frederick Law Olmsted of Central Park fame, was a "celebrity" in the world of park design and urban design at the turn of the century. His influence on Spokane is visible everywhere, from the parks, to the open spaces along Latah Creek, to the Rockwood neighborhood.
Hockaday lives on Bainbridge Island and is a veteran journalist and gardening writer with a particular expertise in preservation.
'Native North America'
A new scholarly collection titled "Reconfigurations of Native North America: An Anthology of New Perspectives" (Texas Tech University Press, $45) has two local connections.
First, one of the editors is Kurt E. Kinbacher, a history instructor at Spokane Falls Community College. His co-editor is John R. Wunder of the University of Nebraska.
Second, the anthology contains a critical examination of regional author Sherman Alexie's work, titled "Sherman Alexie and Stretching Sexual Boundaries," written by Patrice Hollrah of the University of Nevada-Las Vegas.
It examines Alexie's attitudes toward women, gays, lesbians and patriarchalism.
Summer Reading 2009
Monday is the beginning of the "Be Creative @ Your Library Summer Reading Program" at Spokane County libraries and Spokane Public Libraries.
This is the annual reading event in which children, teens and adults are asked to keep track of the books they have read and listened to over the summer. Children and teens are asked to read or listen to 15 books, or read for 15 hours.
Then, at the end of the summer, they can turn in their reading log to their local branch library and receive a prize. Go to www.summerreadingspokane.org to sign up and download a reading log, or check in at your local library branch.
The county libraries have expanded this program to adults, who are asked to read three books over the summer. Those who complete the log will be entered into a drawing. Go to www.scld.org for an adult reading log.
The deadline for getting all of your books read is Aug. 31, so get cracking.
Local journalism is essential.
Give directly to The Spokesman-Review's Northwest Passages community forums series -- which helps to offset the costs of several reporter and editor positions at the newspaper -- by using the easy options below. Gifts processed in this system are not tax deductible, but are predominately used to help meet the local financial requirements needed to receive national matching-grant funds.
Subscribe to the Coronavirus newsletter
Get the day's latest Coronavirus news delivered to your inbox by subscribing to our newsletter.
---