Sports
Detroit strikes first in Stanley Cup finals
Sun., May 31, 2009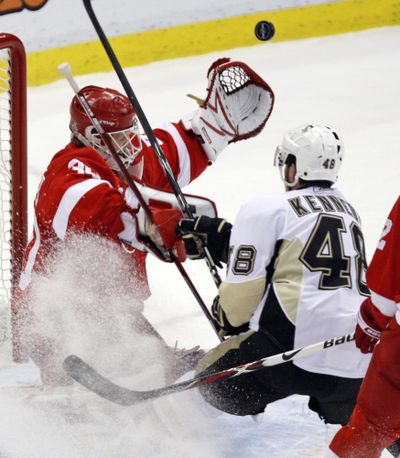 The Detroit Red Wings gave Marc-Andre Fleury flashbacks.
And, they weren't good.
Johan Franzen scored the go-ahead goal late in the second period and Chris Osgood made 31 saves, helping the defending champions beat the Pittsburgh Penguins 3-1 Saturday night in Game 1 of the Stanley Cup finals at Detroit.
Franzen and Brad Stuart had goals that bounced off Fleury, who sat on a shot that trickled in for Detroit's series-clinching goal last year.
Stuart simply dumped the puck behind Fleury and was rewarded with a fortunate carom that sent the puck off Fleury's right skate and across the goal line in the first period.
Pittsburgh's Sidney Crosby didn't have such luck when his third-period shot went off Osgood, a post and landed in the middle of the goalie's back as lay on the ice.
Crosby was dumbfounded.
"I've never seen that before," he said.
Crosby and Evgeni Malkin were slowed down and Detroit scored some fortunate goals.
"I don't think there are going to be a whole lot of skill plays," Red Wings coach Mike Babcock said.
Detroit rookie Justin Abdelkader did come up with an impressive play.
He scored his first playoff goal by leaping to grab his own rebound, putting the puck on the ice and flipping it past Fleury.
Game 2 is tonight in Detroit.
Golf
Clark surges ahead
Tim Clark birdied the 18th hole for a 4-under 66 that gave him a two-stroke lead going into the final round of the Crowne Plaza Invitational at Fort Worth, Texas.
The South African was at 17-under 193 as he chased his first PGA Tour victory.
•Price leads at Principal Charity Classic: Nick Price took a one-stroke lead into the final day of the Champions Tour's Principal Charity Classic at West Des Moines, Iowa, for the second straight year.
Price shot a 4-under 67 and had a 7-under 135 total.
•Texas A&M wins title: Texas A&M's Bronson Burgoon hit a gap wedge from the rough to within 3 inches of the 18th hole to win his match and clinch the first NCAA Division I men's golf title for the Aggies in Toledo, Ohio.
Tennis
Roddick advances
Novak Djokovic became the first big-name player to be eliminated from the men's tournament at the French Open, while Andy Roddick and Serena Williams managed to stick around in Paris.
Djokovic lost to No. 29 Philipp Kohlschreiber of Germany 6-4, 6-4, 6-4 in the third round.
Roddick reached the fourth round for the first time by beating Marc Gicquel of France 6-1, 6-4, 6-4. Williams, the second seed, rallied to beat Maria Jose Martinez Sanchez of Spain 4-6, 6-3, 6-4.
Roger Federer made it through to the fourth round, beating Paul-Henri Mathieu of France 4-6, 6-1, 6-4, 6-4.
Auto racing
Keselowski wins
Brad Keselowski raced to his first NASCAR Nationwide Series victory of the season, taking the lead off a restart in the final laps at Dover International Speedway in Dover, Del.
Joey Logano was second and Clint Bowyer third. Brian Vickers and Carl Edwards rounded out the top five.
•Scott wins trucks race: Brian Scott won the Camping World Trucks race at Dover International Speedway in Dover, Del., for his first career victory in any NASCAR series.
Softball
Georgia to play UW
The Georgia Bulldogs beat Michigan 7-5 at the Women's College World Series in Oklahoma City.
The Bulldogs (46-11) will take on Washington in the semifinals today, needing to beat the Huskies twice to reach the best-of-three championship series.
In other action, Alabama beat Arizona 14-0 and later beat defending champion Arizona State 6-2. The Crimson Tide will face Florida in a semifinal matchup.
Miscellany
Sounders, Crew tie
Alejandro Moreno's header past Seattle goalkeeper Kasey Keller gave Columbus an early lead, but Sounders FC forward Nate Jaqua answered in the 58th minute as the Crew and Sounders played to a 1-1 draw in Seattle.
Jaqua got the equalizer for Seattle early in the second half, volleying home Freddie Ljungberg's lofted pass over the top of the Columbus defense. Seattle extended its unbeaten streak to six games, but has ties in the last five and has not won since beating San Jose 2-0 on April 25.
•Chelsea wins FA Cup: Chelsea recovered after conceding the fastest goal in FA Cup final history, beating Everton 2-1 to win the trophy a fifth time at Wembley, England.
Louis Saha put Everton ahead after 25 seconds.
•Menchov eyes victory: Denis Menchov of Russia moved closer to victory in the Giro d'Italia, keeping the leader's pink jersey in Anagni, Italy, with only one stage left in the cycling classic.
Menchov padded his overall lead by two seconds, while Philippe Gilbert of Belgium won the 20th stage.
•Berto earns decision: Andre Berto retained his World Boxing Council welterweight title with a unanimous decision over Colombia's Juan Urango in Hollywood, Fla.
Local journalism is essential.
Give directly to The Spokesman-Review's Northwest Passages community forums series -- which helps to offset the costs of several reporter and editor positions at the newspaper -- by using the easy options below. Gifts processed in this system are not tax deductible, but are predominately used to help meet the local financial requirements needed to receive national matching-grant funds.
Subscribe to the sports newsletter
Get the day's top sports headlines and breaking news delivered to your inbox by subscribing here.
---