News > Nation/World
FEMA removing last Katrina trailers
Final evictions could take months
Sun., May 31, 2009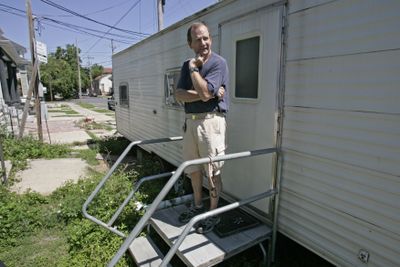 NEW ORLEANS – The only thing keeping Gerard Rigney from getting back into his home is the FEMA trailer in his front yard.
It needs to vanish so his plumber can redo the piping into the house, which was damaged by Hurricane Katrina's floodwaters almost four years ago. After months of calls and letters from the Federal Emergency Management Agency saying his days in the trailer were numbered, he can't wait to get rid of it – even if it means living in an unfinished house.
"I'm grateful I had this. I would've been at the mercy of friends and strangers without it," the 65-year-old stagehand said from his trailer's front steps – a day before FEMA's Saturday deadline for him and thousands of others to leave their federally issued travel trailers and mobile homes or face possible repossession. "But I don't wish the FEMA experience on anyone."
Mobile home and trailer dwellers like Rigney were given several extensions to finish rebuilding homes or find more permanent places to stay. Those who stayed past May 1 were given notices to vacate. And it appears the deadline is going to stick after FEMA told residents they would ask the U.S. Department of Justice to help get them out of the units that have been the only stable homes for many people since Hurricanes Katrina and Rita hit in 2005.
With a new hurricane season officially beginning Monday, an estimated 3,400 households affected by those storms remain in trailers and mobile homes in Louisiana and Mississippi – far fewer than the roughly 20,000 in the two states a year ago.
David Garratt, FEMA's acting deputy administrator, told a House subcommittee on May 22 that it could take several months for any "evictions."
FEMA has repeatedly assured state officials that the situation would be approached on a case-by-case basis. Agency spokesman Clark Stevens said FEMA is working with federal, state and local agencies to help residents transition into long-term housing. He said "new options" are being finalized and "no one will face eviction from a temporary unit while transition measures are implemented."
Still, some advocacy groups worry about more people being made homeless.
The trailer deadline "lacks basic compassion" and "will make a mockery of the Gulf Region recovery promised by President Obama and Congress," the US Human Rights Network said in a statement.
U.S. Sen. Mary Landrieu, D-La., acknowledged the trailers were only supposed to be a temporary option.
"But we cannot simply eject people from bad housing when they have no better options. We cannot turn our backs on the victims of this disaster," Landrieu said, adding that she appreciated Obama administration efforts to work on long-term housing solutions.
Local journalism is essential.
Give directly to The Spokesman-Review's Northwest Passages community forums series -- which helps to offset the costs of several reporter and editor positions at the newspaper -- by using the easy options below. Gifts processed in this system are not tax deductible, but are predominately used to help meet the local financial requirements needed to receive national matching-grant funds.
Subscribe to the Coronavirus newsletter
Get the day's latest Coronavirus news delivered to your inbox by subscribing to our newsletter.
---