News > Spokane
GM fall signals end of an era
Automaking giant was once epitome of corporate power
Sun., May 31, 2009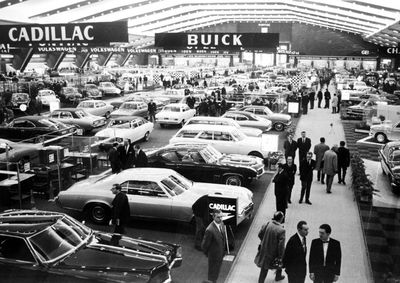 DETROIT – Before there was a looming bankruptcy, there were monster tail fins, tons of chrome, the 'Vette, Caddy and the Riviera. There was star designer Harley Earl, trendsetting Chief Executive Officer Alfred Sloan, mom-and-apple-pie ads and good-as-gold shares of stock. There were stunning displays of future highways at the 1939 World's Fair and the historic recognition of the UAW after the 1937 Flint sit-down strike.
During the American Century, GM's impact on America was pervasive. "See the USA in your Chevrolet," people sang in the 1950s and '60s, mimicking the TV jingle.
GM was so big, so dominant, so self-confident and, sometimes, so arrogant, there were frequently calls for the U.S. Justice Department to break up the company. When GM dedicated its Warren Tech Center in 1956, no less than President Dwight D. Eisenhower spoke via telephone hookup.
The so-called Generous Motors, along with the UAW, created the standard for all American industrial workers in wages and benefits and made autoworkers the aristocracy of the working class.
In 1950, GM and the union agreed to a long-term contract dubbed the Treaty of Detroit that gave workers comprehensive health insurance, pensions, cost-of-living adjustments and income protection during economic downturns.
In return, the company got long-term labor peace – but also financial obligations far into the future for pensions and health care that would become factors in its failure as sales declined and billion-dollar quarterly profits became multibillion-dollar losses.
"American manufacturers were once held up as good corporate citizens for providing these benefits," former GM Chairman and CEO Rick Wagoner wrote in a 2005 essay in the Wall Street Journal. "Today, we are maligned for our poor judgment in 'giving away' such benefits 40 years ago."
Before and after World War II, GM represented all that was productive, efficient and big-time about Detroit, which had evolved in many ways to resemble a giant factory itself, bringing in raw materials and churning out millions of world-class vehicles. GM's West Grand Boulevard headquarters looked like a gilded palace inside.
But now, with GM ready to file for Chapter 11 bankruptcy protection Monday in New York, all that seems like ancient history – and the company's future appears uncertain.
'Not in my wildest imagination'
"Tumultuous times in the Motor City. It's like, surreal," consumer advocate and longtime GM nemesis Ralph Nader said late last week. "Not in my wildest imagination did I think this would happen."
Mike Smith, director of the Walter P. Reuther Library at Wayne State University, said: "If you lived in Michigan in the 20th century, you were personally connected to GM in one way or another: family, friends, business or pleasure. And now, a piece of Michigan life will never be the same."
If you believed the business of America was business, then GM in its heyday acted as a sort of shadow government.
In 1953, Eisenhower named Charles Erwin Wilson, then GM president, as secretary of defense.
Asked during Senate hearings if the defense secretary could make a decision against the interests of General Motors, Wilson answered yes, but famously added he could not imagine such a case, "because for years, I thought what was good for the country was good for General Motors and vice versa."
Industry pioneers
GM pioneered in styling, accounting, engineering, customer research and annual model changes. The company turned out Cadillacs and Buicks for those who could afford luxury and Chevys and Pontiacs for the middle and working class.
Sloan, the legendary president and chairman, once said GM needed to offer "a car for every purse and purpose."
Under Sloan, the company also developed a committee approach to decision-making that helped produce a series of gray-suited organization men who ran the firm from the 14th floor of the GM building.
Sloan argued in his famous 1964 book, "My Years with General Motors," that bigness was necessary to enhance productivity.
"If we penalize efficiency, how can we as a nation compete in the economy of the world at large?" Sloan asked.
GM produced some of the nation's most storied cars, including the 1959 Cadillac Eldorado – designed by the mythical Earl – with its elaborate chrome, rocket ship-like tail fins, nearly 5,000-pound weight and 345-horsepower engine.
The graceful 1955 Chevrolet Bel Air, also orchestrated by Earl, had a small-block V8 – the most important power plant in American automotive history, according to auto writer and industry historian Tony Swan.
There also were such classics as the 1938 Buick Y-Job, the auto industry's first concept car; 1948 Buick Roadmaster; 1953 Chevy Corvette; 1959 Chevy Impala; 1965 Pontiac GTO; and 1967 Chevy Camaro.
'Beginning of the end'
Yet there were lemons, too, like the 1960 Corvair, a poorly designed rear-engine compact that did much to launch the automobile safety movement and the consumer-protection career of Nader, who homed in on the Corvair in his 1965 book, "Unsafe at Any Speed."
GM's image suffered further damage when President James Roche was forced to apologize when word leaked that the company had hired a private eye to investigate and harass Nader.
"The Corvair was the beginning of the end of GM's unquestioned dominance of the car market," wrote Micheline Maynard in her 1995 book, "Collision Course."
The world unravels
After a decade of mounting legacy costs, inefficiencies, the oil crisis, corporate mismanagement and boring vehicles, GM's rapidly deteriorating image was captured – and aggravated – by "Roger & Me," the lacerating 1989 documentary by Michael Moore that raked the company and CEO Roger Smith for GM's devastating plant closings in Flint, Moore's hometown and GM's birthplace.
Yet when he appeared on the "Charlie Rose" TV show last Aug. 18 to mark the company's 100th anniversary, former GM boss Wagoner said, "Charlie, I think the future's very bright."
Spin like that helped to create the climate of shock in southeast Michigan in recent months as residents slowly watched their once-comfortable world unravel.
Nelson Lichtenstein – a labor history professor at the University of California, Santa Barbara, and author of "The Most Dangerous Man in Detroit," a 1995 biography of labor leader Reuther – noted constant change is characteristic of the economy that produced GM.
"Capitalism is an unstable system," he said. "Just ask the ox cart builders of England or the radio assemblers of Camden."
But, Lichtenstein added: "As one who has studied how the UAW battled GM for decades and decades, I never emotionally thought it would go into bankruptcy."
Local journalism is essential.
Give directly to The Spokesman-Review's Northwest Passages community forums series -- which helps to offset the costs of several reporter and editor positions at the newspaper -- by using the easy options below. Gifts processed in this system are not tax deductible, but are predominately used to help meet the local financial requirements needed to receive national matching-grant funds.
Subscribe to the Coronavirus newsletter
Get the day's latest Coronavirus news delivered to your inbox by subscribing to our newsletter.
---